Story of reunion: The baby who was lost and found
He was lost, he made headlines and then he was found the day before Christmas, like a miracle being bestowed on his desperate parents and sister. The baby boy, Gavish, stolen from the Kalubowila Hospital, was finally reunited with his parents on Christmas Eve and when The Sunday Times visited them at their home in Wijerama, Nugegoda a few days ago, there was tangible joy.
"Finding our son was God's best gift for Christmas. Many people's wish that Gavish would be found came true. I can't explain the feeling when I held my son after we found him," said Wasantha Fernando (34), father of Gavish.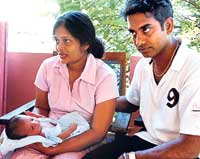 Together at last: Little Gavish with his parents.
Twelve-hour-old Gavish Gihan Fernando was stolen from the Kalubowila Hospital on December 18, with the incident hitting national headlines. "During those six days we didn't sleep at all, although we were really tired. I was on the road even at dawn in search of our baby, visiting more than ten places," says Wasantha.
The day before Christmas he was at the Welikada Police seeking information on his lost son when he got a call from OIC Prasanna Brahmanage of the Kohuwela Police. The police had a tip-off that the baby boy was in a home on Kanatte Road, Thalapathpitiya. "The house was off a small lane and we surrounded it. When we walked forward I saw a girl, who was around 12. The girl ran back to the house when she saw us and we followed," he recalls.
There, he saw the suspect woman, just as his wife Shamalee had described her and on a bed lay a little pink bundle. "My heart was beating fast as I went nearer…….and then I knew that he was my lost son," says the tearful father."We never lost hope of finding our son. While my husband was looking for him I was at home praying," adds Shamalee cuddling Gavish while sister Nethmi showers him with kisses.