'Podi hamuduruwo' appeals to Prabha
Hunupitiya Gangaramaya Nayaka Thera, Ven. Galaboda Gnanissara Thera has invited the LTTE and its leadership to eschew the terrorist cause and to look ahead for the greater good of the Tamil people and all the people of Sri Lanka. In a special statement, the Thera said that the Sri Lankan Government has offered to devolve power to the provinces and appoint persons of the Tamil community to important posts in Government, but no Sri Lankan government can concede Eelam and hence it was time for the concept of Eelam to be put aside once and for all.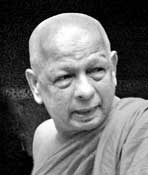 Ven. Galaboda Gnanissara Thera
"Historically we are aware that absolute power cannot be maintained indefinitely. The LTTE has held sway over the Tamil people over two decades now. Though the movement remains strong in certain aspects, a number of its other areas have been noticeably weakened," the Thera said in the statement.
He also praised the leadership of President Mahinda Rajapaksa saying he was a far sighted and brave leader of integrity."In his recent visit to Japan and other countries, he has stated uncompromisingly that he will eradicate terrorism completely. He has said so forthrightly at the UN sessions as well," the Thera said.
It is therefore time for the LTTE to come forward with honest intent to seek a solution to this problem that has ravaged this country, he said. The Thera also said that Velupillai Prabhakaran is a wanted man in India and Sri Lanka, but an amnesty could surely be negotiated both for the LTTE and its leader on the basis of a broad settlement.
"Our President understands the tenets of Buddhist philosophy. I am confident that he will consider favourably an amnesty which will go hand in hand with a lasting peace. We ourselves would be willing to intercede towards this end," the thera added.
"It is therefore opportune that those who share the aspirations for Eelam - leaders as well as members of the community - should make a searching reappraisal of their cause and without further sacrifice of lives and the future of what is their country as well, commence a discussion on what, in terms of fairness, a government can actually give," he said.