No TV show for stripping of CBK residence
While the country was glued to the Rupavahini, watching the live drama at the state-owned TV on Thursday, with Labour Minister Mervyn Silva getting a taste of his own medicine, another silent drama was played out at No. 27 Independence Avenue, the official residence of former President Chandrika Kumaratunga.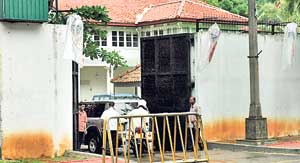 The Independence Ave. residence of Ms. Kumaratunga
Sources said that in an operation lasting about six hours, officers from the office of President Mahinda Rajapaksa painstakingly removed various moveable and immoveable items from Ms. Kumaratunga's office after taking a careful inventory. This was in keeping with a May 3rd Supreme Court judgment which declared that she was not entitled to a luxury residence and an office at Independence Ave. at tax payers' expense.
Coincidentally or not, Presidential Secretary Lalith Weeratunga moved to implement the Supreme Court decision only on September 30, five months later, by issuing a "without delay" quit notice to Ms. Kumaratunga soon after the much publicized grand reception she threw at the Mt. Lavinia Hotel for her only daughter Yasodara and her newly married husband Englishman Dr Roger Walker. No one from the country's first family had been invited to that reception.
After the takeover of furniture and fittings from her office on Thursday, the last remaining employees of that office too have been reverted to the Public Administration Ministry. At the time of the serving of the "without delay" quit notice at the end of September her office had a cadre of more than two dozen state employees.