Berghof chief asked to leave
Hot on the heels of SriLankan Airlines CEO Peter Hill being sent packing, the head of the controversial Swiss and German funded NGO, the Berghof Foundation for Conflict Studies, had been asked to leave Sri Lanka by tomorrow, an immigration official said. He said Berghof director Norbert Ropers had been given about 20 days notice that his visa would not be renewed on security grounds.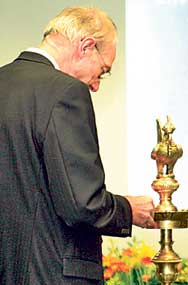 Dr. Ropers
Recently, the Janatha Vimukthi Peramuna had made some critical statements against Berghof Foundation, the German based NGO, that came into the country to promote "good governance". The Sunday Times contacted the Defence Ministry several times to ask why Dr. Ropers was being asked to leave the country, but no clear answer was given.
Lakshman Hulugalla, chief of the Media Centre for National Security was contacted by us on Friday and he promised to explain the position yesterday but did not do so. Like the Foundation he headed, Dr. Ropers also had courted controversy. In May this year he was pulled up by the Parliamentary Select Committee probing activities of NGOs for failing to appear before the Committee despite having received three letters to do so.
He told the Select Committee later that his foundation's donor nations – Germany and Switzerland – had advised him not to appear before the committee. The contention of the donors was that as the Foundation was in Sri Lanka under an MOU signed with the Government, all dealings were with the government and hence there was no need to come before a Parliamentary Committee.
"We are neither an NGO nor an INGO in Sri Lanka. We work here under an MOU signed between the Foundation and the Ministry of Constitutional Affairs in July 2001 and we are registered under the Companies Act," Dr.Ropers told the committee. The Foundation's work here is planned for six years. Its current term ends in December 2008. It is believed Dr Ropers has already left the country.
When we telephoned Berghof office, we were informed by an employee that the Foundation had been closed for Christmas and would be reopened on January 2.