Back with a bang
After being overseas for just over two years, Yoshita Abeysekera will bring together her students of dance for a performance which is bound to be an evening of energetic entertainment, consisting of various forms of dance from ballet to jazz, in early January next year. Speaking to Yoshita, she said, the performers, for this year's show, titled, Dance Moves 2, will be between the ages of 11 to 18 years and that a majority of them will be from Asian International School but there will also be dancers from the Colombo International School and the British School in Colombo. Some of Yoshita's friends, who she has danced with before, will also get up on stage to tap their feet to the sounds.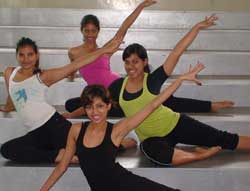 A part of the performance to look forward to, will be, a 14-year-old Singaporean girl, by the name of Shuling Wong who is one of Yoshita's students from her current school in Shanghai. In case you were wondering, Yoshita has been away from Sri Lanka because she has been teaching dance in Shanghai, China, and after two and a half years, this performance will bring together her students, from the School of Dance Moves.
Her main group of dancers are her seniors, said Yoshita, "I've taught them since they were eight years," she said proudly, adding, "I want to bring them all together to do the show," because they will be going to different parts of the world for their higher studies. She went on to say that "they co-ordinate and work together" and that their, "enthusiasm and talent is just amazing!" It seems her students have stopped dancing since she left, "but their technique is good - they've got it in them," she said adding that they are "very natural," and that "they are all versatile dancers."
The programme will be in choreographed in two sections. The first part will be of modern ballet and contemporary dance and the second part will display dance forms which will include freestyle dancing like street jazz and hip hop dance moves. The show promises to be one of energy and great dance moves. The dancing will be accompanied by popular chart hits as well as from scores of musicals, which will include the songs of the ever popular Michael Jackson and also the unforgettable sounds of "Mama Mia." Some items from the previous performance will be repeated, this year, as well.
Zero Consequences will be handling the music and lighting, while the costumes will be tailored by Sharmila Fernando. The Elders Home in Colombo 07 will receive part of the proceeds from the show. Dance Moves 2, is sponsored by Emirates Shipping and East West Marketting and will be held on January 3 and 4, 2008 at the Bishop's College Auditorium, starting at 7.30pm. Tickets will be priced at Rs. 1500, 1000, 750, 600, 500 and 400 and the box plan will be open at the auditorium from 10am – 12pm and 2 – 4pm. For further details, contact Yoshita on 0777-654547