Finale to remember
Neththara Final, the series ending show of the mega musical Neththara Live featuring Sri Lanka's popular music duo Bathiya and Santhush will come alive on January 4 with an added significance. Apart from the fact that it is bound to be much bigger and exciting than any of its pervious shows, the concert will be hosted by the Interact Club of Ananda College to raise funds for the proposed health camp as part of their community service project to be held next year.
The community service project is a major aspect of any interact club. Throughout the years the Interacters of Ananda College have been conducting health camps across the country, which have benefited thousands of people both young and old. Their last year's 'Hope' health camp held in Thalumna in Tangalle drew over 2000 people and included an eye camp and dental clinic. This year's project organizing committee believes that hosting such a mega event, although challenging, would no doubt help them continue the good work.
Talking about the concert, the committee warns the audience to come prepared for a few surprises including some guest performances and new songs. The Neththara Final will be totally different from its previous shows.
This would not just be a Bathiya and Santhush show, but would feature performances by some well-known artistes and a couple of new songs of the duo," says Anjana Jayakody, the project treasurer and club secretary who refuses to give even the slightest indication of the surprises in store for us. The previous Neththara shows have included performances by artistes such as Ashanthi, Ranidu and Centigradz.
"Bathiya is a past pupil of Ananda College and he was also an Interactor. It was actually he who suggested that we host this show to raise funds for our community service project," Anjana said, adding that the health camp will be held in Bandarawela in April next year.
Explaining in detail about the project, its chairman, Chamith Wattage said that they would also conduct an eye camp and dental clinic with the help of doctors and specialists sponsored by them and donate spectacles to the needy. "In addition we also hope to donate over 40 wheelchairs to soldiers at Ranaviru Sevana as well as to an elders' home," he said.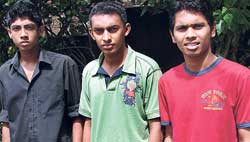 Committee members
Earlier this year the club held Fusion as part of their international understanding project and a car wash to raise money for club activities.
The club also hopes to organize the Morning of Friendship that brings together Interactors from across the country, for which they received the best club service project award in the year 2006/2007. The Ananda College interact club has also won the best club award on numerous occasions, including 2006/2007.
Neththara Final will be held on January 4 at the St. Joseph's College Sports Complex from 7.30 p.m. onwards.
Tickets priced at Rs. 500, Rs. 1000 and Rs. 1500 are available at Vibrations, Lover outlets (Nugegoda, Kohuwela, Dehiwala south, Duplication Road, Borella, Battaramulla) and Laughs Supermarkets (Jubilee post, Maharagama, Wellawatte, Rajagiriya, Baudhaloka Mawatha and Havelock town).