Daring
Notes on a scandal, Starring: Judi Dench, Cate Blanchett, Directed by: Richard Eyre
Dame Judi Dench's Covett is a history teacher in a British school that makes the one in Saint Clara look like an accounting firm made over by the Body Snatchers. Vicious football hooligans and wanton almost-women abound "the future plumbers and shop clerks," in Covett's acid baroque. The teachers crouch in the gymnatorium, trading term reports, like beleaguered generals in the trenches. Covett's is the most succinct: Her classes are "below the National Average, but above the level of catastrophe.
Recommendation: No change necessary." But no matter how we try to keep things status quo, change has a way of sluicing in through the cracks. At the start of the Fall term, change waltzes into Dench's life in the liquid form of new art teacher, Sheba Hart (Cate Blanchett), who is as lovely as an Elf and her namesake together, but as free as a Hobbit, and she can't seem to stop airing out around a treacherously-charming 15-year-old, Steven Connolly (Andrew Simpson), who is determined to pluck this Bohemian rose by means artful and sincere.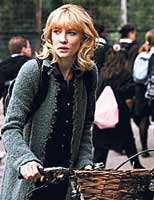 When Covett catches a sensuous eyeful of the twosome during a Christmas pageant, she sees an opportunity to cinch her snare shut. She takes Hart into her confidence, promising not to tell for the sake of Hart, Connolly and the school. Soon Covett is insinuating herself into the family life of her supple obsession, appearing at every lunch, outing (and inning), like some incestuous mother-in-law. Hart's family consists of a drolly self-amused husband (Bill Nighy), a teenage melancholic daughter (Juno Temple) and a son who suffers from Down's Syndrome (Max Lewis), whom Covett regards as a flimsy gauntlet between her heart and Hart.
When she's not haunting the Harts' steps, like an insufferably-haughty shadow, Covett can be found out at her meticulously-clutter-free abode, adorning her diary with gold stars and musing about everything from lasagna, to the "pubescent proles," to her only true friend in the world: her dying cat, an uncanny doppelganger of Mrs. Norris, Filch's feline in the Harry Potter movies.
Of course, everything falls apart spectacularly in the third act, with everyone's gory doings blared across every tube and telly from Bath to Birmingham. But what's even more amazing is the way everything falls back together in the end. There are the wounds that cleave, yes, and those which sew us back more strongly than ever. These are the darling themes of director Richard Eyre, who is a fellow who believes – truly believes – in the all-conquering power of love, not as a Disneyfied platitude, but as an attracting force, binding beyond all reason, even when every particle of logic screams, "Resist!" Love is a jigsaw puzzle. Smash it to bits, the pieces will snap themselves back into place snugger than ever.
One of the great charms of Notes On a Scandal, as with Iris, is seeing a supremely royal woman behave like an utter slob. In Iris, we watched the wits of one of the great literary show women of our time rust and rot, but oh-so tenderly. Here, we have Dench muttering such crude asides as "Lasagna doesn't agree with my bowels; I shall eat as little as possible."
Another double take-inducing moment has Dench "stroking" Blanchett's arm in ways most titillative. "Did they do this at your other school?" she asks without a wink of shame.
These bleak backdrops have a way of humanizing Dench, bringing her down to the contradictions coursing under the crust of the mundane. Dench's Covett has a stalker's knack of deconstructing the simplest gestures – a hair drifting onto her lap, the brushing of a hand – as thunderclaps of loving proclamation.
When faced with the ugly contraries real humans are composed of, Covett regards them as base treacheries, then tosses people away, like chipped porcelain. Anyone who falls short is cut off, like a gangrenous limb.
But witnessing this, we come to realize Covett is her own worst victim. She's doomed to live in a world which falls forever short of her expectations. In other words, she's human. We pity her.
Watch it if you liked – American Beauty
Movie Hall of Fame – Not too sure…
Tagline – One Woman's Mistake Is Another's Opportunity...
He said/she said – This is going to sound sick, but something in me felt... entitled. You know, I've been good all my adult life. I've been a decent wife, a dutiful mother coping with Ben. This voice inside me kept saying "why shouldn't you be bad, why shouldn't you transgress? I mean, you've earned the right."
Enchanted (2007)
This is topping the US box office and is definitely worth a watch as long as we get in time! An animated fairy tale meets modern, live-action comedy. The beautiful princess Giselle is banished by an evil queen from her magical, musical animated land and finds herself in the gritty reality of the streets of modern-day Manhattan. Shocked by this strange new environment that doesn't operate on a "happily ever after" basis, Giselle is now adrift in a chaotic world badly in need of enchantment.
But when Giselle begins to fall in love with a charmingly flawed divorce lawyer who has come to her aid – even though she is already promised to a perfect fairy tale prince back home – she has to wonder: Can a storybook view of romance survive in the real world? - www.imdb.com