Cover-up?
~ Musharraf Government accused of hiding the truth in Bhutto killing
ISLAMABAD, Saturday (AFP) - Benazir Bhutto's party today rejected the official account of her death as " nonsense" and accused the government of a cover-up, as many Pakistani cities remained virtually shut down in mourning. While the United States pressed Pakistan to go ahead with elections on January 8 in an attempt to defuse the crisis gripping the country, a bitter dispute erupted over how the former premier died and who was to blame.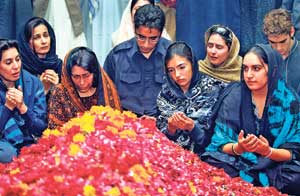 Slain former Pakistani premier Benazir Bhutto's son Bilawal (C), daughters Bakhtawar (R), Asifa (2R) and Bhutto's younger sister Sanam Bhutto (3-L) pray at her graveside at the Bhutto mausoleum in Ghari Khuda Baksh yesterday. AFP
Bhutto died on Thursday after a suicide attack targeting her vehicle at a campaign rally in the northern city of Rawalpindi. Early reports said she had been shot before a bomb exploded nearby. However the interior ministry said she had no gunshot or shrapnel wounds. It said the opposition leader died after smashing her head on her car's sunroof as she tried to duck.
Interior ministry spokesman Brigadier Javed Cheema said Bhutto would have survived the assassination attempt if she had stayed inside the car and not had put her head above the sunroof. He also blamed al-Qaeda, saying intelligence services had intercepted a call from Baitullah Mehsud, considered the extremist group's top leader for Pakistan, congratulating a militant for Bhutto's death.
Senior members of Bhutto's Pakistan People's Party (PPP) dismissed the government's version of events as "lies". "There was a bullet wound I saw that went in from the back of her head and came out the other side," Bhutto's spokeswoman Sherry Rehman, who was involved in washing her body for burial, told AFP."This is ridiculous, dangerous nonsense because it is a cover-up of what actually happened," said Rehman.
Farooq Naik, Bhutto's lawyer and a senior PPP official, said Bhutto had a second bullet wound in the abdomen. Bhutto was an outspoken critic of al-Qaeda-linked militants blamed for scores of bombings in Pakistan and had received threats. But she had also accused elements from the intelligence services of involvement in a suicide attack on a Bhutto rally in October that left 139 dead and which she only narrowly escaped.
Maulana Omar, a spokesman for alleged al-Qaeda kingpin Mehsud, also denied involvement in the attack and expressed grief over Bhutto's death. (See separate story on this page.) One day after Bhutto was laid to rest at her family's mausoleum in southern Sindh province, the authorities deployed in force to stem violence which has left at least 33 people dead.
Most people were unable to buy food or petrol, with all shops, fuel stations, banks and offices closed down. The streets of the country's main cities -- Karachi, Islamabad, Rawalpindi, Lahore and Peshawar -- were largely empty, and in many places there was evidence of violence and looting. Burnt-out cars littered the streets in the southern town of Larkana, a Bhutto stronghold where groups of her supporters were roaming the streets shouting slogans against President Pervez Musharraf.
Analysts warned that Pakistan was facing the biggest crisis since Bangladesh split off from the country more than 35 years ago, and that Musharraf's credibility was hanging by a thread."We are heading towards a very uncertain phase of politics which has the potential to plunge the country into a state of anarchy," Hasan Askari, former head of political science at Lahore's Punjab University, told AFP.
The scale of the unrest has raised serious doubts about whether the parliamentary elections aimed at ending eight years of military rule can take place. Pakistan's other leading opposition figure, Nawaz Sharif, has already pulled his party out of the elections, saying they would "destroy the country" if they went ahead.
The assassination has also thrust security concerns and foreign policy back into the US political spotlight less than a week before Americans start voting to decide their Democratic and Republican presidential candidates. Leading democratic candidate Hillary Clinton called for an independent, international probe into Bhutto's murder, saying Musharraf's government had no credibility.
"I think it's critically important that we get answers and really those are due first and foremost to the people of Pakistan," Clinton said. Bhutto was buried on Friday with hundreds of thousands of grief-stricken mourners following her coffin on the final journey to the family's mausoleum in the village of Ghari Khuda Bakhsh.