War on the economic front- need of the hour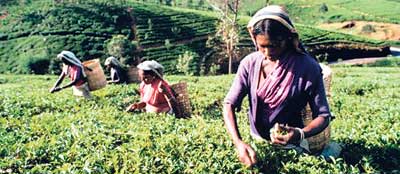 The plantations survived thanks to private ownership and today continues to generate much needed foreign exchange
Last Sunday an eminent Central Bank economist drove home some bold truths of Sri Lanka's economic ills.
The topic was the Growth Vs Inflation dilemma; in his own words high inflation and high growth are not two pals who could share beds! This simply explains the major economic imbalance that's affecting the country today, inflation is vicious makes the rich richer and poor poorer.
This is now a familiar scenario as we experience when settling bills, imported inflation reflecting heavily in the utility bills threatening the monthly cash flow of the fixed income earner. Well if this is the situation we need to wage war against these economic imbalances with all the forces we can muster if we are to survive.
Government expenditure, wasteful tamashas, corruption, drain on foreign exchange incompetence, lawlessness, etc are key enemies ruining our economy imposing heavy burdens on us. In this background and the threat of global food and oil price hikes that the country's Chief Executive spoke in no uncertain terms to the heads of state corporations. Sri Lanka has limited options other than to launch war against the enemy forces causing economic imbalances.
State Corporations
The state corporations were set up with good intentions but politicisation gradually caused havoc as leaders sought to reward party loyalists irrespective of their competencies by appointing such to run these institutions, results were obvious they becam inefficient unmanageable organizations and had to depend on government revenue provided by tax payers.
Politicisation also saw turbulent trade unionism but the political heads due to party affiliations avoided corrective measures. Plantations, public transport, petroleum and railways were the worst victims.
The plantations survived thanks to private ownership and today continues to generate much needed foreign exchange and also provides revenue to the government by way of taxes, public transport and railways continue to be inefficient causing a heavy financial burden to the people. At the same time it must be said there were some good ventures like State Pharmaceuticals, Shipping Corporation and the State Banks who through good stewardship benefited people. P&O's involvement in Port services brought in a competitive spirit thus the government owned Ports Authority too improved their performance. During election times state corporations headed by political appointees become centres of political activity with all resources geared towards political campaigns. On the other hand according to news reports some of the privatizations too have been handled badly at a tremendous cost to the public. If this wastage and corruption could be avoided such funds could be directed to provide public utilities as well as subsidies to those who cannot meet rising prices.
Corruption
Corruption though not entirely a new phenomena became a major public menace with the advent of the open economy. If those stories on buying over legislators are true one can imagine the level of corruption taking place in Sri Lanka, We are not a Singapore nor do we have leaders in the calibre of Lee Kuan Yew to eliminate corruption totally but reducing the scale is something not impossible.
Here too what has to be borne in mind that the ill effects of the corruption are the burden to the public? It is sad the legislative measures introduced by the governments have failed to deliver desired results. Only known actions were when more than five decades ago several senior ministers were found guilty of corrupt practices and as a punitive measure their civic right were abolished.
Foreign exchange reserves
Sri Lanka in recent times have been barely managing with US$ 2 to 3 billion in range reserves sufficient for two to three months imports in contrast to developed countries who hold substantially large amounts enabling them to absorb shocks. Reserves provide stability to the exchange rate which is a primary determinant of the cost of imported commodities. This has been a major cause of rising living costs with heavy dependence on imports.
Tea industry is doing well and expected to reach the coveted US$ 1 billion mark this year with strong demand. The industry's potential is immense and the next US$1 billion too should be a possibility with appropriate direction and the assistance from the state for brand development and further deregulation. Despite many setbacks the tourism sector is showing promise.
While boosting exports some rationalization is required in imports and in particular the ever increasing oil guzzling vehicles and the duty concessions granted for such.
Fiscal incentives and infrastructure alone will not encourage foreign investment as the deteriorating law and order, adverse publicity and poor diplomacy will act as negative impediments.
War on the serious impediments to economic progress too should be fought with determination commitment, good governance and strong leadership. As another year comes to an end this is the cherished hope of every Sri Lankan for the new year.
Email - suvink@eureka.lk