Christmas cheer and homes for tsunami victims
While there are still many families affected by the tsunami who are yet to get the promised houses, three years after the shock waves, some families were lucky enough to get houses from Caritas. The Sunday Times FT reporter Lakwimashi Perera accompanied by photographers J. Weerasekera and Athula Devapriya were in Galle and Trincomalee with a media team when these new houses were handed over to the recipients.
Trincomalee - All around the village is lush jungle with the Indian Ocean visible just beyond the edge of the trees. The village is Konesapuri, which is now home to families whose homes were swept away by the 2004 tsunami. This festive season 103 families were able to enjoy the Christmas cheer in houses of their own instead of languishing in camps and temporary shelters thanks to Caritas Sri Lanka who built these houses.
Caritas is the social service arm of the Roman Catholic Church. The organization operates in 168 countries around the world conducting charitable work. In Sri Lanka the national centre is SEDEC (Social and Economical Development Centre). The organisation has 13 regional branches through which work in those areas are carried out, each with its own director, explained Rev. Father Damian Arsekularatne director of SED-Galle, the southern wing of the organization. "The houses in Konesapuri were built through EHED Caritas Trincomalee, which oversees work in the East along with EHED Caritas Batticaloa. Caritas Sri Lanka has in total built approximately 6000 permanent houses for those affected by the tsunami," he said.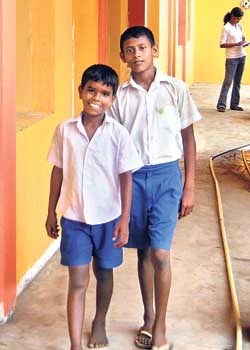 The Caritas village in Kalupe, Galle is a neat housing scheme with the 42 houses painted in bright, earthy colours and nestled among systematic road network within the scheme. Each house is built on around eight perches and the land belongs to Caritas, eplained S. P. Anthonymuthu, Public Relations officer for SEDEC. U. K. Sudath occupies one of those houses along with his wife and young daughter. A tour operator from Galle, he told The Sunday Times FT that they were languishing in camps for two years before they got a permanent roof over their heads. All 42 families living in the Kalupe scheme were affected by the tsunami in one way or another, said Samson Padmasiri, Grama Niladhari of the area. He said that having permanent homes helped the people overcome the trauma they went through.
The scheme in Walauwaththa, Galle is home to Mohomed Naseema who told us her story with tears pouring down her face. Naseema's husband was from Kerala, India and they had two children. Naseema spent 19 years in Abu Dhabi and built two houses through her hard work. She was supposed to come to Sri Lanka on holiday in the end of December 2004. "A few days before the 26th of December I called to ask my children what they wanted from here," she said explaining that she was out shopping for dolls for her daughter when she got the news that the waves that had swept in had taken away her whole family and the results of her hard work of almost two decades. Now she lives alone in a house provided by Caritas SED – Galle like the other inhabitants of the houses.
Her neighbour Baby Nona Dias, a 77 year-old who used to live opposite the Mahamodara school also had her home swept away. "We were first given clap board houses," she said. When enquired as to how she makes ends meet, she said "My brother is a retired station master with a pension and he looks after me."
According to Rev Father Arsekularatne, the Caritas programmes does not stop at providing homes but also focuses on building livelihoods and psycho-social programmes to help the people deal with the tragedy. Through society and community organisations based on occupations the people are assisted to go back to their usual occupations, be it agriculture, fisheries or self-employment.
Sellahamunadige Gnanawathi, an income beneficiary is a success story from Matara. She learnt to manufacture soap from the programmes carried out by SED – Galle and now carries on a successful business with a monthly profit of around 6000 rupees complementing her husband's income. "I have now applied for a licence to sell soap as right now it's mostly among friends," she said.
In Trincomalee, the people who were affected by the tsunami were already war victims, having lived almost 20 years with a battle raging almost outside their doors. The tsunami of 2004 compounded their problems. In Kinniya, a small island off the coast of Trincomalee almost every building was completely destroyed including the hospital. The island can only be reached by a ferry but now there is a bridge under construction, connecting Kinniya to the mainland. Muthalif Mubarak, the Divisional Secretary of Kinniya said that 377 lives were lost from Kinniya and 33 children were left orphaned. According to him currently 98% of houses were completed in the Kinniya Division of the Trincomalee district thanks to various NGOs and organisations such as Caritas that stepped in at the time of need. "This is one of the most successful tsunami rehabilitations," he said.
The earlier mentioned village Konesapuri is in Uppuveli, Trincomalee, an area that was an LTTE stronghold when the war was at its peak. Most people do not have proper jobs or a steady income as the majority of them were originally fishermen but now with the restriction about going out to sea, the people are forced to make ends meet through manual labour and they say it is difficult. Abdul Majeed Riyaz, a fisherman who was spared his life during the tsunami because he was out at sea, is a father of three small children. "We are only allowed to fish out at sea twice a week," he lamented saying it was extremely difficult for him to make ends meet.
People from Faizalnagar, another little village town in Trincomalee also spoke to us about their plight. This area was affected by the civil war in the early period of the 90s.
A. H. Mohamed Jazeer is a second year student at the Peradeniya University and is a recipient of a monthly scholarship through EHED Caritas, the Trincomalee branch. "The Caritas scholarships help students from pre-school level all the way up," he said while Montessori teacher Sakariya Nasmiya explained that there are nine pre-schools maintained by Caritas with approximately 50 students per school. The teachers are paid by Caritas and are also given training, she said.
Another couple said that their 21 year old son is a student at Jaffna University. He has to take the ferry when he comes to Trincomalee to visit his parents and each trip from Jaffna to Trincomalee costs 3000 rupees.
Some of the people who spoke to us in the East were not affected by the tsunami but by the war. They said that while the tsunami victims are given help to move on with their lives they are still suffering.