RPC exits from NDB after Sena appointment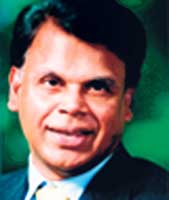 Dr. Sena Yaddehige
Richard Peiris Co (RPC) sold its 10 percent stake in NDB to a foreign fund just a week after RPC Chairman Dr. Sena Yaddehige came on board as a government representative of the NDB directorate.
This fuelled speculation that it was done to facilitate Dr. Yaddehige's position further at the bank and comply with the draft mandatory code of corporate governance for banks. But a RPC spokesman said the company sold the stake purely as a bid to realise a capital gain in order to clean up the balance sheet. "We are in the process of restructuring our investment portfolios and we decided to move out of NDB," he said. The governance code says that a non-executive director shall not be considered independent if he/she has direct and indirect shareholding of more than one percent in the bank or in a subsidiary company or an associate company of the bank.
"Dr. Yaddehige does not fall into this category because he is not an 'independent' director. He still has five percent of NDB Bank and there is no breach in the code of corporate governance as he is a representative of the government," the spokesman said.
An NDB official said that there is provision in the Articles of Association that as long as there are obligations by the NDB to the government the latter has the right to nominate a director to the Board.He also said that after NDB became a company in 2005, the government nominee directorship was not filled until now.