An Indian excursion would do us good - Jayendra
Sri Lanka will play their Division Three Davis Cup Tie in Teheran next year. With just under four months to go, preparations are already under way. But there are many tennis followers who firmly believe that Sri Lanka is a Division Two team. One of them is former national champion and Davis Cup Captain Jayendra Wijesekera.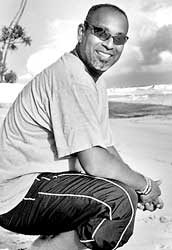 Jayendra Wijesekera
In an interview with The Sunday Times Wijesekera said: "When I was playing Davis Cup tennis, we reached the semi finals in Division Two for five years. But now we certainly should be playing in Division Two. During my time we never had any one who was playing tennis full time. Now we have Harshana Godamanne who is based in Thailand and playing numerous tournaments. If not a professional, he can be classed as a semi professional. However he cannot win a Davis Cup tie on his own. This is where the Sri Lanka Tennis Association (SLTA) should come in, back in my day there were not many players, but now there are literally thousands. In addition to which there are quite a few Sri Lankans playing overseas who would relish the opportunity to represent their country."
He added: "Take the Davis Cup tie that was played in Sri Lanka earlier this year. Other than for a couple of players, most of the competitors were amateurs. It must also be said that when it comes to players based overseas, the selectors have to be careful. Statistics can be deceiving. The players should be tried out in Sri Lanka before they are picked to represent the country. Godamanne's case though is different. He is under the tutelage of Dominic Utzinger who as any one would recall was also Sri Lanka's Davis Cup coach. Utzinger's credentials as a coach are impressive. He has coached in Switzerland and everybody knows how high the standard of Swiss tennis is."
When asked as to how Sri Lanka can progress Wijesekera said: "The SLTA needs to put systems in to place. There should be different coaches for each age group. This would not only enhance the quality on tennis played, but it would also give the national selectors a larger group of players to choose from. We have the talent. I think it is just a matter of identifying the players and getting them in to a good training regimen.
"I believe that going to India to play a couple of tournaments or even for a competition organized by the SLTA itself before the Davis Cup should be explored. There is also going to be United States Tennis Association (USTA) sponsored tournament from January 2 to 8 to identify players suitable for scholarships for the United States. This is another golden opportunity for youngsters to get exposure at the highest level. One must keep in mind that the sport of tennis is ranked around fifth or sixth in the popularity stakes in Sri Lanka. If Sri Lanka were to succeed at international level, it would be an incentive for more youngsters to take up the game and it would also make it easier for the SLTA to find sponsors not only for tournaments but for training and coaching programs as well. In conclusion I would like to suggest that the SLTA maintains a level of continuity especially if the team is succeeding. Other sports have clearly proved that the changing of coaches, captains and players leads only to failure certainly in the short term and quite probably in the long term as well."