The shuttler with a vision for the future
Making a shuttle seven-in-a-row and the national crown at that is a rare feat indeed. Twenty-two year old Niluka Karunaratne who hails from a badminton clan, won the national men's singles badminton open title for the seventh time time this year. He created history by erasing the record held by Ravi Kuruppu, who had made it a 6-in-a-row.
Niluka, is the eldest in a family of 4 brothers -- Diluka, Dinuka, and the youngest Chamika, a grade 7 student, at Royal College. The foursome has excelled in the shuttle sport. Niluka sowed the seeds in the cradle of badminton at Dharmasoka Vidyalaya, Ambalangoda.
Recent Exploits
The Sunday Times caught up with the lithe-limbed Niluka training at the SLBA courts for an interview, after his recent exploits at the nationals. He said, "I started my schooling at Dharmasoka in 1994 up to Grade 3 – 1998. Then I moved to Royal College in 1999. I always had a tremendous appetite for the shuttle sport. It was my father Louis Karunaratne, who taught me and my brothers the skills at grassroots level. Studying in a different atmosphere at the Reid Avenue School proved a testing ground. Hard grinding, but never looked back since leaving the Ambalangoda School. I won the Singles title in all age groups Under-11 to 19. Barring the Under – 15. I represented the Sri Lanka national team as a schoolboy, in year 2000.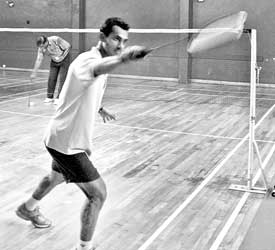 Niluka Karunaratne at practices.
"In 2001, I defeated Manjula Fernando in the finals and to date I am unbeaten. This time I beat my brother Diluka in the final". Niluka continued "To win something extraordinary in sports, the individual should have talent. That comes with your inborn qualities. Champions cannot be made, but they are born. Once you get a firm foothold then, you have to work hard on your own, to make the slippery climb and must be totally committed. Since I made the grade worked hard on my own, seven hours a day 9 a.m. to 12 noon. 4 p.m. to 7 pm. at the SLBA courts. Under the watchful eyes of national coach Pradeep Welagedera and professional coach Hafeez from Indonesia. The SLBA hierarchy is giving all encouragement and support to the national squad. I am fortunate despite trials and tribulations my parents backed me along with my brothers to the hilt to go places via badminton. And today I am ranked the 80th.
"I have an Olympic scholarship in Germany from July 2006 up to August 2008, but .stayed there for only four months as I had to represent my country. My first priority was to serve my country at the SAF games in 2006 and then at the Commonwealth Games in Melbourne, Australia in 2006. In Australia I beat the Canadian No. One Robert Milroy who is ranked 18th in the world.
Speaking about his personal life Niluka said "I was working at Bartlett Group for two years, but resigned. I am yet to decide on my future. At the moment I am only concentrating on my career as a Badminton player and improve on my ranking and do proud for the country".