All abuzz for second literary festival
The Galle Literary Festival with its formidable line-up of international literary stars is generating quite a buzz among book lovers.
In its second year, the World's No. 1 Literary Festival (an accolade bestowed by Harper's Bazaar) is aiming for an encore that should bring down the house.
Festival goers will get to meet a whole host of famous authors, including Gore Vidal, Karen Roberts, Vikram Seth, Alexander McCall Smith, Shyam Selvadurai, William Dalrymple, Shobhaa De, Punyakante Wijenaike, Carl Muller, and Ashok Ferrey among many, many others…….. authors, journalists, academics and bloggers. In addition the scope of the festival has been widened even more to make room for playwrights and directors, publishers and chefs.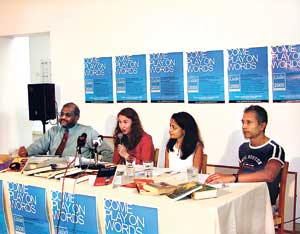 L-r: Chairman Tourist Board Renton de Alwis, Festival Manager Seetha Chinappa Sarwal, Festival Director Libby Southwell and author Ashok Ferrey.
Said Festival Director Libby Southwell: "The festival has been set up to act not just as a platform for writers, but as a forum for ideas, creativity, sharing of perspective, knowledge and experiences."
"The Galle Literary Festival demands our wholehearted support," says Prof. Yasmine Gooneratne, patron of the festival. "It came as a breath of fresh air. It was a relief to be able to think again about literature, about poetry, about the beauty of landscape and architecture, to remember that these things also exist, that they are part of our own cultural identity, and should not be forgotten or ignored...It makes a positive gesture towards wholeness with which I can completely identify with," she said.
The Sunday Times, Daily Mirror and Hi! are the media sponsors for the festival. The Galle Literary Festival Festival opens on January 16 at the Law Court Square in Galle Fort. Listed here are the main events, running parallel in two separate locations -for each day that follows. Numerous free events, feature events seminars and workshops are also part of the programme. For more details check www.galleliteraryfestival.com. Tickets are on sale at Barefoot.
The Hall De Galle, Galle Fort: Thursday, January 17
9. 30 a.m. - 10. 30 a.m- A Remarkable History! (Event Code 002). Featuring William Dalrymple- The award winning author will discuss his most recent book The Last Mughal, taking you on a journey through the Indian rebellion of 1867-8 and the deposition of the last Mughal emperor.
11 a.m. - 12 p.m- English in Sri Lanka (Event Code 004)
Featuring Michael Meyler and Richard Boyle; moderator Simon Winchester. Hear experts discuss the use of the English Language and its nuances in contemporary Sri Lankan writing. 2 p.m. - 3 p.m- Titled 'Stylemakers of Ceylon,' this session features Sri Lanka style brought alive by artist Laki Senanayake, designer Barbara Sansoni, architect Channa Daswatte and photographer Dominic Sansoni; moderator Ashok Ferrey. (Event Code 008)
3.15 p.m. - 4.15 p.m-Sindbad the Sailor (Event Code 010) Adventurer and travel writer Tim Severin and author and researcher Richard Boyle discuss their fascination with Sindbad's Voyages; moderator Simon Winchester. 4.30p.m. - 5.30 p.m. The Role of the Publisher (Event Code 013) Get the scoop from global and Sri Lankan Publishing houses on the process: finding talent, editing, marketing and distributing. Moderator Nury Vittachi
Maritime Museum, Galle Fort: Thursday, January 17
9.30 a.m. -10.30 a.m.-'Politically Incorrect,' featuring Shobhaa De; moderator Deepika Shetty. Shobhaa De shares with us an insight into her risqué novels and her writing journey. (Event Code 003). 11 a.m. - 12 p.m- The Grataien: Before and After,' featuring Punyakante Wijenaike, Neil Fernandopulle and Seneka Abeyratne; moderator Ashok Ferrey. (Event Code 005). These Grataien award winning writers discuss the impact that the award has had on their writing and their lives. 2 p.m. - 3 p.m- From Page to Stage (Event Code 009). Seneka Abeyratne, Indu Dharmasena, Tracy Holsinger, and Delon Weerasinghe, along with other Sri Lankan playwrights and directors; moderator Sunila Galapatti
4.30 p.m. - 5.30 p.m- Writing: The Pain and The Pleasure (Event Code 014). Join emerging writers Indran Amirthanayagam, Julian West and Randy Boyagoda as they talk about what motivates people to write and what it takes to make the distance. Moderator Deepika Shetty.
The Hall De Galle, Galle Fort: Friday, January 18
9.30 a.m. - 10.30 a.m.-Traveller's Tales (Event Code 017) Featuring Tim Severin, Brian Keenan, Christ Stewart, Sandra Hoffmann and Vikram Seth; moderator William Dalrymple. Cross continents and cultures with some of the world's best travel writers. 11 a.m.- 12: The Writing Life (Event Code 019) Join two of Sri Lanka's most prominent and provocative story tellers Carl Muller and Yasmine Gooneratne in conversation with Nury Vittachi. 2 p.m. - 3 p.m.: Longing and Belonging (Event Code 029)
Explore the meaning of the Diaspora and what impact it has on the writing of Karen Roberts, Shyam Selvadurai, Randy Boyagoda and Channa Wickremesekera; moderator Richard Simon. 3.15 p.m. - 4.15 p.m.: Wild Swans: Life in Exile (Event Code 031). Hear Jung Chang in conversation with her husband historian Jon Halliday about her compelling family story and how it interweaves with China's journey. 4.30 p.m. - 5.30 p.m: The Edge of Prejudice (Event Code: 034) Explore the literary treatment of prejudice (racial, sexual, and cultural) with contemporary writers Kamila Shamsie, Channa Wickremesekera and Shyam Selvadurai.
Maritime Museum, Galle Fort: Friday, January 18
9.30 a.m. - 10.30 a.m.: The Power of Poetry (Event code 018) John Mateer, Tishani Doshi, Jeet Thayil, Indran Amrithanayagam, Sophie Hannah and Vivimarie VanderPoorten discuss the process and allure of working with the poetic form; Moderator Jill McDonald. 11 a.m. - 12.00: Climate Change and Tourism: The Dilemma (Event Code: 020) Featuring Gehan de Silva Wijeyeratne, Ranil Senanayake, Rory Spowers and Kim Kindersley discussing the myths and realities of Climate Change. 2 p.m. - 3 p.m.: An Evil Cradling (Event Code 030)
Brian Keenan, international travel writer gives an intimate account of being held hostage for five years in Lebanon. 3.15 p.m. - 4.15 p.m.: Cricket Mania! (Event Code 032) Hear from writers Kamila Shamsie, Tishanie Doshi, Rahul Bhattacharya and Sri Lankan cricketer Kumar Sangakkara about their passion for the game; moderator Michael Roberts. 4.30 p.m. - 5.30 p.m- Whose Narrative is it Anyway? (Event Code 035)
Explore the increasingly multicultural nature of writing with Michael Roberts, Randy Boyagoda and John Mateer. Moderator Rahul Bhattacharya.
The Hall De Galle, Galle Fort: Saturday, January 19
9.30 a.m. - 10.30 a.m- The Meaning of Everything (Event Code 040) Simon Winchester - well respected journalist and writer - in conversation with Hilali Noordeen on a range of subjects including the greatest monument erected to a living language. 11 a.m. - 12 : A Good Detective and a Good Woman (Event Code 042). Featuring Alexander McCall Smith, much feted author of the No.1 Ladies Detective Agency.
2 p.m. - 3 p.m.: Funny Boy talks to Funny Man (Event Code 052). Shyam Selvadurai, groundbreaking author of Sri Lanka's first gay novel Funny Boy in conversation with Ashok Ferrey. 3.15 p.m. - 4.15 p.m.: The Voice Within (Event Code 054) Why do writers write? Listen to Chris Stewart, Tishani Doshi, Yasmine Gooneratne, Indran Amirthanayagam and Brian Keenan attempt to answer that question.
4:30 p.m. - 5:30 p.m.: A Suitable Novel (Event Code 056) Vikram Seth author of 'A Suitable Boy' in conversation with Deepika Shetty.
Maritime Museum, Galle Fort: Saturday, January 19
9.30 a.m. - 10.30 a.m- The Female Pioneers (Event Code 041) Featuring Yasmine Gooneratne, Jean Arasanayagam, Vijita Fernando, Anne Ranasinghe and Punyakante Wijenaike. 11 a.m. - 12: Fact of Fiction (Event Code 043) Kamila Shamsie, John Zubrzycki, Julian West and Sandra Hoffman. Novelists, journalists or both? Hear them discuss the motivations and the connections between fact and fiction; moderator William Dalrymple. 2 p.m. - 3 p.m.: Bloggers: Can they be taken seriously? (Event Code 053) Indi Samarajiva, Deepika Shetty, Nazreen Sansoni, Sanjana Hattituwa, Ravana and Iresha Dilhani; moderator Nury Vittachi Leading bloggers and writers in a discussion about the nature of blogging today. 3.15 p.m. - 4.15 p.m: The Last Nizam: From Riches to Rags (Event Code 055) Ever heard of the Indian Prince who lost it all in the Australian outback? Get ready for a history lessons like no other by award winning journalist John Zubrzycki; moderator William Dalrymple. 4.30 p.m. - 5.30 p.m.: Living with Conflict (Event Code 057)
Kamila Shamsie, A. Santhan, Louis Dean, Karen Roberts, and Lal Medawattegedara discuss the impact and significance of conflict on their work. Moderator Sharmini Boyle.
The Light House Hotel, Galle: Sunday, January 20
9.30 a.m. - 10.30 a.m.: Can Language Provide a Bridge to Peace? (Event Code 060) Rajiva Wijesinha, A. Santhan, Neloufer de Mel, Sanjana Hattotuwa and Jean Arasanayagam discuss how effectively the written and spoken work may be used as a mechanism for peace. 11.00 a.m.- 12.00: The Nature of the American Empire (Event Code 061) Join world renowned author and polemicist Gore Vidal in conversation with Simon Winchester.