24 hour Sinhala movie Channel on Dialog TV
Twenty four hour Sinhala movie and teledrama channel came into action with Dialog TV, Sri Lanka's premier satellite television service provider last week.
The launch of 'City Hitz', Sri Lanka's first uninterrupted 24 hour Sinhala HBO type movie channel, was held last week at Hilton
City Hitz will feature a unique blend of Sinhala movies and teledramas, including exclusive Director's cut editions, the making of popular movies and interviews with artistes. As a special attraction and added value, viewers would be able to enjoy all their favorite content uninterrupted, with no commercial breaks. City Hitz will carry full length Sinhala movies and dramas ranging from classic hits from the 1960s to the latest blockbusters.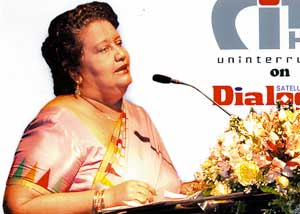 Dialog TV recently introduced Citi Hitz, Sri Lanka's first ever 24 hour Sinhala movie and tele-drama channel to its existing portfolio of channels. Seen here in the picture is Mrs. Sumithra Peiris, chief guest at the launch addressing the gathering.
Dialog TV also announced that as an introductory offer City Hitz will be added free of charge to all subscribers for three months (till April 2008), and thereafter will provided for a monthly rental of Rs. 30/-. 'Today is an important day for DTV as, for the first time in the history of Sri Lankan television and in the world of satellite TV, we are launching an entire channel dedicated to Sinhala films and teledrams' said Mr. Nushad Perera, Chief Executive Officer, Dialog TV at the launching ceremoney.
'With the launch of Citi Hitz, we are opening the door for thousands of Sinhala cinema lovers from across the island to experience the best in local cinema through high class satellite technology. This will also be the first time that Sri Lankan viewers will enjoy full length Sinhala movies and teledramas uninterrupted from the comfort of their own living room' he added.
Dialog Television (Private) Limited, a subsidiary of Dialog Telekom Ltd., operates Dialog Satellite TV, a Direct to Home (DTH) Satellite TV service. Aiming to offer the best of satellite TV to all Sri Lankans Dialog TV supports a broad array of international content including CNN, BBC, HBO, Cinemax, AXN, ESPN, Ten Sports, Discovery Channel, MTV (Music Television) and Cartoon Network, in addition to a wide portfolio of Sri Lankan television channels.
Dialog Telekom, an ISO 9001 certified company, is a subsidiary of Telekom Malayasia. Dialog operates 2.5G and 3G Mobile Communications networks supporting the very latest in multimedia and mobile Internet services. The Company has the distinction of being the first 3G operator in South Asia to commence commercial operations. Its local coverage spans all provinces of Sri Lanka, while international roaming is provided in over 200 countries. Dialog Telekom, the largest and fastest growing cellular service in Sri Lanka, serves a subscriber base in excess of 4 million Sri Lankans. For more information log on to www.dialog.lk