Nutcracker brought to life
We all love fairytales, don't we? Especially, when it helps us escape the troubles and insecurities of the real world, transporting us to a magical land of beauty, wonder and charm, even for a brief moment. We also love Christmas and the joys the season brings. No doubt that many a time we have eagerly waited till the clock struck midnight to open those gifts and toys lying beneath the tree. What if those toys began to walk and talk or one of them turned out to be a real-life prince who would escort you to the Land of Snow this Christmas? Obviously, that happens only in fairytales. But, we are never too old for fairytales and The Nutcracker which will be performed by the students of the Deanna School of Dancing, is just one of those fairytales that would certainly transport you to that magical land this Christmas.
A ballet in two acts, The Nutcracker was composed by Tchaikovsky and is based on the story The Nutcracker and the King of Mice written by E. T. A. Hoffman. It's Christmas Eve and the Stahlbaums are hosting their annual Christmas party. The Stahlbaum children, Clara and Fritz are dancing and playing with their friends around the most beautiful Christmas tree imaginable. Godfather Drosselmeyer, the skilled toy maker who is always full of surprises also arrives at the party and delights everyone with his three life sized dolls. Drosselmeyer then presents Clara with a beautiful Nutcracker which makes her brother jealous even though his present is also equally nice. Fritz promptly breaks the Nutcracker, leaving Clara heartbroken. However Drosselmeyer repairs the toy with a handkerchief.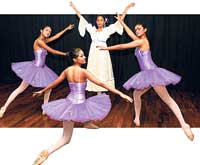 As the guests depart and the Stahlbaums retire to bed, Clara worried about her beloved Nutcracker, falls asleep with him in her arms next to the tree. While she sleeps the angels visit her and as the clock strike midnight, strange things happen. Clara begins to shrink and the toys around her come to life. The room fills with an army of mice led by the fierce Mouse King and the Nutcracker awakens he leads his army of toy soldiers into battle. When he is captures by the Mouse King, Clara comes to the rescue and when awoken, the Nutcracker turns into a Price. He takes Clara to the Land of Snow, an enchanted forest wonderland where they are welcomed by dancing snowflakes.
He then escorts her to the Kingdom of Sweets where they are greeted by the Sugar Plum Fairy, who upon hearing their daring battle rewards them with a celebration of dances. Clara awakes. So what made the Deanna School of Dancing choose this particular ballet, which no doubt requires a huge cast and a lot of work? Catching up with Deanna Jayasuriya and some of the members of the cast, the reason behind it was quite clear.
"The Nutcracker is a fairytale and children love fairytales. There is also a great demand for this sort of productions and the students already knew the plot which made it easier for me to train them," says Deanna Jayasuriya, the Principal of the Deanna School of Dancing who is also the choreographer and director of the production. "The 'Christmas' theme of the ballet was another reason which made me select this particular piece as it is perfect to be performed at this time of the year," she said.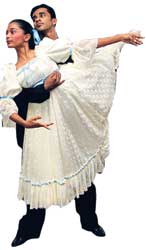 Another significant aspect of this production is the sheer number of the cast. Over 450 students will be participating and the youngest is just 2-years-old."The school performed this ballet about 12 years ago with a cast of around 100," says Deanna. "This is a completely different cast and over the years children have become very much stronger and their standards have also improved," she explained. "What is probably more significant is that the entire school will be participating," she said, explaining that prior to this, the seniors and juniors held separate performances.
The role of Clara, is played by Shonaka Ranatunga (18) who has being dancing since she was 5-years-old and has taken part in a range of productions. However, this is her first lead role and she is extremely exited about it."The dancing is tough and there is a lot of acting as well. Also, I have to dance with a partner and this is something I have not done before," says Shonaka, adding that she's looking forward to performing her solos and is not nervous 'yet'.
Her partner, the Nutcracker is played by Baratha De Silva (22). A Latin dancer, this would be the first time Bharata takes part in a classical ballet."I have participated in many productions before and quite interestingly none of them have been similar . Also, I have never done 'lifts' before," he says explaining certain movements in The Nutcracker. However, every production has its many challenges and as Deanna says this was no easy task.
"Choreography itself was a challenge because we had to give a part to every child in the school. We also spend months listening to the music and this is completely different to what we did last time. However training the students was not so difficult and I received a great deal of support from other teachers and my senior students," she said.
In the end in order to make such a massive production work, the attitude of all those involved in the production is what matters the most. As Deanna says, her students are very committed and love what they are doing. Moreover they don't dance just for fun. They take it very seriously. The Nutcracker will be performed on December 18 and 19 at the BMICH at 7.00pm. Tickets are available at the school – Deanna School of Dancing No. 30/63H Longden Place, Colombo 7.