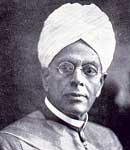 Sir Ponnambalam Ramanathan
Seventy seven years ago, on November 26, 1930, a leader of national standing Sir Ponnambalam Ramanathan passed away. He was 77.
Having passed out as an advocate, he was 28 when he was nominated as an unofficial Member of the Legislative Council of Ceylon in 1879, on the retirement of his illustrious uncle Sir Muttu Coomaraswamy, father of the well known international scholar Ananda K. Coomaraswamy.
At the age of 38, he was a Senior Barrister, with over fifteen years legal experience and was also the Unofficial Leader of the Legislative Council. He was awarded the prestigious title of KCMG, (Knight Commander of the Order of St. Michael & St. George) by the Imperial Government in 1889.
He was a critic of the colonial government and possibly as a measure to silence him, he was appointed by the Governor as Solicitor-General in 1892, which post he held until 1903, acting as Attorney-General on several occasions during this period. He was made a King's Counsel in 1902. He retired the following year.
In 1911, he was elected by the people as the first Educated Ceylonese Member of the Legislative Council by a sweeping majority. He defeated Dr. Marcus Fernando. It was a historic event, as he was the very first candidate to be elected to the Legislature of the country by an All-Ceylon electorate, prior to the introduction of universal franchise in 1931, under the Donoughmore constitution. He was re-elected to this seat in the Legislative Council in 1916 and held it until 1920.
After the Sinhalese – Muslim riots of 1915, he was a strong critic of the authorities for their panicky reaction and harsh treatment of Sinhalese leaders under martial law.
When territorial representation was introduced, he contested and won the Valikamam North Seat, in the Jaffna Peninsula, which he occupied from 1924, until his demise. His monumental contribution to education has been the establishment of two schools, the Ramanathan College for girls, established at Chunnakam in 1913, and Parameshwara College for boys, eight years later. The latter has since become the Jaffna University Campus.