Discussing the final line-up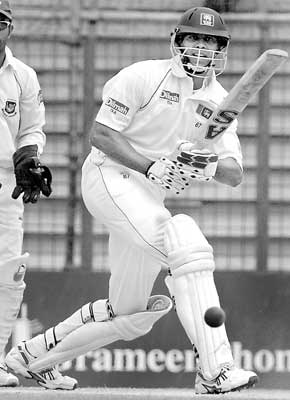 Michael Van Dort in all probabilities will bat at No.3. But, his lack of match practice at this level and the fast and bouncy GABBA wickets may pose him some problems if Sri Lanka loses an early wicket in the first Test.
The hamstring injury sustained by Kumar Sangakkara will certainly be a blow to Sri Lanka, as they face upto to the Australians in Brisbane next week. It is the first time that he will miss a test match due to an injury of this nature. Now thirty years of age, this is the first sign of wear and tare on a body that has taken plenty of punishment. Yet it comes as a surprise. He is supremely fit and must be doing plenty of muscle strengthening and stretching work outs. However, that is the lot of the sportsmen. Injury, like a thief who steals in the night, arrives without prior notice.
There are plenty of batting options in the squad. It will give an opportunity for another batsman, to grab the chance and impress. From the manner in which the tour is progressing, the opening pair will be Sanath Jayasuriya and Marvan Atapattu. Two hugely experienced players and former captains. It will be a delight to see them together again. They are in the autumn of their careers and will no doubt want to leave their mark in test cricket in Australia, as it is bound to be their last tour to the country. Sri Lanka's next tour is in 2010.
It is the first test of the Australian summer and the pitch in Brisbane is bound to be fresh, having some juice and with it pace and bounce. Together with the pitch in Perth, these are the two quick and bouncy tracks in Australia. It will be a huge challenge and an experience of a lifetime to get out there and wield the willow.
Jayasuriya and Atapattu will start proceedings and Michael Van Dort should fill in Sangakkara's position at number three. Perhaps, Van Dort may have played even should Sangakkara have been there, simply to add some depth to the line up. Van Dort has shown slow but steady progress since his first appearance. He has not been a regular, not considered often for one day games and this has kept him playing for the "A" team and domestic games. The short rising delivery is what will test him and there will be a regular dose for him to handle.
Captain Mahela Jayawardena has had some worries of late, going through a lean spell. He has had a couple of such spells during his career, but managed to come good. It was noticed that during such times his feet were not moving sufficient to meet the ball, resulting in also playing away from the body and hitting the ball in the air without much control. During the recent ODI's against England that was the case. He has a warm up game before the test to get focused again on what he is capable of doing. One good knock and he is bound to get back into his stride again.
It will be a new experience for Chamara Silva. When he has played pace in other parts of the world he has handled the responsibility efficiently. Silva is quick with his foot movements and quickly, with nimble steps gets into position to meet the ball. What he will have to adjust to will be the extra pace and bounce, negotiating the early part of the innings safely.
The sixth batting slot will be contested between Thilan Samaraweera and Jehan Mubarak. One bats right handed the other left. At present there may not be a huge difference in form. Both have not been tested against genuine pace, although both have toured South Africa, but not tasted much success. My choice will be Samaraweera, purely for the experience he has over Mubarak. With test centuries under his belt, he has proved that he can concentrate and bat for long periods of time. That will be needed from all the batsmen in the line up.
At numbers seven and eight will be the two all-rounders, wicket keeper Prasanna Jayawardena and left arm pace man Chaminda Vass. Both are test centurions and they will be required to make a contribution. The three bowlers likely to play are genuine tail enders and therefore Jayawardena and Vass will have to put their heads down and play their role as all-rounders.
Dilhara Fernando and Lasith Malinga should share the pace bowling duties with Chaminda Vass, edging out Farvez Maharoof. Fernando and Malinga are Sri Lanka's quickest bowlers and they must be unleashed first up. Should Fernando be able to continue from where he left off against the English, then he will definitely be a handful for the Australians. Lasith Malinga will always be difficult with his round arm action. He needs to maintain the off stump line and then he is going to meet with success.
All eyes will be on Muttiah Muralitharan. Eleven year after being "No Balled" in Australia, can be have the last laugh by becoming the world's highest wicket taker! That too by beating Shane Warne's record. My belief is that he will! He is bound to bowl a lot of overs and he should come back home with his name on top of the list.It will be two tough test matches. The Sri Lankan players, all of them, will have to perform at their very best. We wish them all success.