The making of Alan
"Martin, I've just come from the most shocking case I ever tried… He blinded six horses with a metal spike." – Hesther Salomon, Magistrate. And so, unfolds Equus – Peter Shaffer's complex, disturbing, psychological drama where a middle-aged psychiatrist Martin Dysart is confronted by Alan Strang, a 17-year-old boy who has blinded six horses. As he attempts to unravel why the seemingly gentle horse-lover committed such a horrendous deed, Dysart comes face to face with his own personal demons.
Equus ran to packed houses from October 18 to 21, and 26 to the 28, at the British School Auditorium. Presented by the British Council, the dramatic masterpiece was brilliantly directed by Steve de la Zilwa with a stellar cast comprising Rohan Ponniah as Dr. Dysart, Tracy Holsinger and Shanaka Amarasinghe as Alan's parents, Ranmali Mirchandani as the Magistrate, Shannon Raymond as the horse Nugget, Janice de Zoysa as the nurse, Dominic Kellar as the stable owner Harry Dalton and Subha Wijesiriwardene as Alan's love interest, Jill Mason. Ending with standing ovations almost every night, Equus has, no doubt, etched itself into the minds of audiences as one of the most successful local theatre productions in recent times.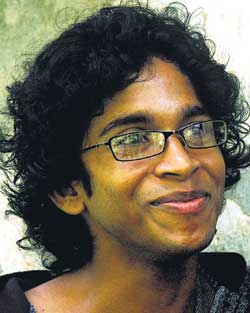 For many, one of the most impressive aspects of Equus, notwithstanding Rohan Ponniah's masterly performance and Steve de la Zilwa's inspired direction, was the portrayal of Alan Strang by young Hiran Abeysekera. Just 21, Hiran played the complex role with unbridled passion, taking the audience on a roller coaster emotional ride from repressed hostility, aggression and ecstasy to pain and vulnerability.
Meeting the "star" himself days later, it was hard to draw a connection between the at-times frenzied Alan Strang and this laid-back, soft-spoken individual. "It was just a beautiful, beautiful script. When Steve gave it to me, I actually stayed up till about 3 a.m., reading it, and the minute I finished I got in touch with Steve, asking him when we start!" said Hiran, settling back in his chair to talk me through what the experience of playing his multi-layered character entailed.
A student of Nalanda College, he was highly involved in English drama while at school, but his real dramatic expertise came from the Sinhala theatre, and from the exceptional theatre training he received from veteran director Somalatha Subasinghe, Kaushalya Fernando and Chandana Aluthge. "My father's house was just two doors next to Somalatha Subasinghe's, and so I joined her school, the Lanka Children and Youth Theatre Foundation, when I was quite young, and took part in numerous Sinhala plays such as Walas Pawula, Sanda Langa Maranaya and Vikurthi," he said.
But his introduction into mainstream English theatre was the British Council's presentation of Romeo and Juliet, directed by British director William Scott Richards, this year. Hiran was picked to play Romeo. And this was where Steve de la Zilwa spotted his Alan Strang.
"Hiran is a wonderful actor. I saw him in Romeo & Juliet: a live wire springing around in the centre of that arena, he made a very good impact. He really was Alan Strang. But one issue always worried me. He was from the Sinhala theatre and could he cope with working in English - especially with the cast I had in mind," said Steve of his young find.
Meeting and getting to know Hiran, he realised that he knew his mother, Sobani Iddamalgoda, from a long way back, she having been an acrobatic dancer with Oosha Saravanamuttu. According to Steve, her artistic influence, along with the solid training at the Somalatha Subasinghe Drama School, and also having worked with Scott Richards, all contributed to enhancing Hiran's theatrical skills.
"To cut a long story short, Hiran was soon, quite definitely playing Alan Strang. He slipped into the role so easily. Working with him was a joy. His natural talent is a delight. His ability to pick up an idea and respond to direction is amazing. Hiran is a sponge. Azira and I often referred to him as this. On Equus, Azira Esufally worked on dialogue with Hiran, very successfully. He is young, and has a long life ahead of him on the stage," said Steve.
His initiation to Equus began with a first reading between just Rohan and him. "The more we read, the more I got into my role, and the lines just began sticking. Then gradually everyone else joined in with the reading, and it just rolled on from there. I went on the net and checked out material on Equus, and Steve kept sending me reviews and articles as well, and so I familiarised myself with the script and my role," said Hiran.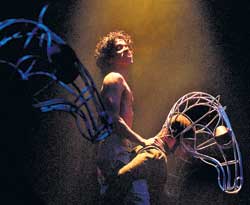 And what of working with a theatre-great such as Rohan Ponniah? "He awed me completely. When you are on stage with him, he gives you so much. That voice, that personality…if you think this script is demanding, well then, working with Rohan is so much more demanding!" said Hiran, his eyes widening with admiration. There is a point at which Alan Strang snaps, from the confused, angry boy singing jingles, to an expressive, passionate individual. From there on, the relationship between Dr. Dysart and Alan evolves, purely based on trust. "This chemistry was vital, and that worked out great for us. Rohan makes it all so easy. When you are acting with him, things just happen!"
As for his director, "Steve doesn't make you do things. He just watches you, and gives you little things to work with. He just knew which buttons to press and get the best out of me. We discussed my role of course, but it was just a case of him moulding whatever came out of me, and making it something wonderful. People who watched me rehearse used to tell me that I evolved throughout. That was all due to Steve."
Every other member of the cast helped him in so many ways, he says, adding "They are just all pure, lovely people." Hiran is elated that his mentors such as Somalatha Subasinghe and Kaushalya Fernando had commended his performance. "They also thanked Steve for giving them a show that they did not have to go to England to watch!" he said.
Christopher Ponniah, who played the part of Alan Strang in the 1978 production of Equus, flew down from Singapore to watch the performance. "He told me I did a good job, and the look in his eyes was…well I can't explain it. I suppose watching someone else play the part you played over 30 years ago brings back so much emotion and memories," he said.
Presently reading for a BA at the University of Kelaniya, Hiran hopes to continue with drama, but is also keen on teaching. "This is what I love, but it's not always practical to be only an artist. Teaching is something I really enjoy doing as well, so I'm hoping to maybe become an academic and teach drama to students," said this young actor.
"In a sense British Council discovered him when we cast him for the role of Romeo, in Romeo and Juliet at the beginning of this year. Steve came upto me said, 'I think I've found our Alan Strang', " said Ranmali Mirchandani. "He is a young man with so much talent, and has a fabulous future ahead of him. He's the kind of talent, where if he gets the chance, can do quite well in Broadway. And the most impressive thing about him was how he adapted from the Sinhala theatre to English with so much ease."
Having seen Equus in London this year, Ranmali believes Hiran's portrayal of Alan Strang, under Steve's skilled direction – was far more impressive than that of Daniel Radcliffe who played the part in the West End production. Need we say more?