Ancient glory for the Hill capital
~ Administrative and residential facilities to be moved to new towns off Kandy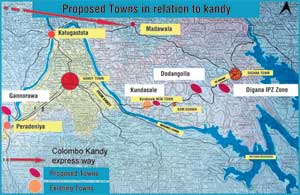 Proposed Towns in relation to Kandy
Kandy will be a quiet, less-congested city being a heritage site of Sri Lanka exclusively for foreign and local tourists while other areas in the Kandy district will be allocated for commercial, administrative, educational and residential purposes when a multi-million rupee development plan is put into effect.
Kundasale, Pallekelle and Dodangalla are the proposed main towns to be developed within five years. Kundasale would be the town where all the administrative offices would be located. Urban Development Authority Zone II Deputy Director General Mrs. Janaki Hettiarachchi said that traffic congestion in the greater Kandy area, which is only 25 square kilometres, has forced the shifting of State offices.
"UNESCO declared the Kandy city centre as a world heritage site that has to be preserved but it cannot be done with the huge pedestrian and vehicular traffic at present. We can't accommodate everything in the city centre. The only solution is to develop adjacent towns to preserve the Kandy city centre," she said.
According to Ms. Hettiarachchi, Hantane was excluded as it was a hilly area with scenic views, was a tourism zone and a place for nature lovers."There is ample land at Pallekelle which is rapidly developing after the 1990 Gam Udawa and is suitable to serve as a greater Kandy area. It is also connected to many towns like Digana and Wattegama. It is a suitable residential area also. The Provincial Council office is in the process of being constructed at Pallekelle," she said. .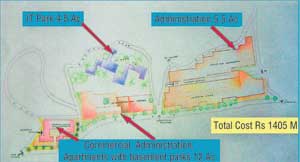 Proposed Development at Kundasale
A railway line from Katugastota to Pallekelle new town would be constructed as part of the development of the area, she said. 280 acres of land in Dodangolla which is situated between Kundasale and Digana town would be designated as a residential area.
Also the vast bus terminal proposed to be built at Dodangolla would attract around 4000 buses, which used to travel through Kandy city daily.
"The land in Dodangolla belongs to the Agriculture Department. 80 acres would be given to the Department to be used for its research centre. The balance land would be used to construct a school, a large bus terminal, shopping complex, industrial park, domestic airport, cultural centre and many more," she said.
Kundasale, already an existing town would be developed further with administrative offices, car park, residential apartments, IT centres and commercial buildings.Ms. Hettiarachchi said the Water Supply and Drainage Board has already prepared a water supply scheme for the greater Kandy area and the newly developing towns.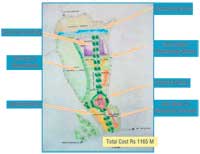 Proposed Development at Dodangolla
The proposed Colombo-Kandy expressway would also help to reduce the congestion in Kandy city, she said. Kandy District Secretary S.M. Gotabhaya Jayaratne told the Kandy Times that the present Kandy city centre couldn't be developed any more to meet the requirements of the Kandy district.
"There is a population of 1.3 million and 20 Pradeshiya Sabha divisions. We have to control the unnecessary influx of people and traffic.
The unnecessary influx comes with the day-to-day activities and it could be reduced by shifting many administrative offices out of the city. With commercial and residential buildings too being shifted it would be easier to make Kandy city to be a heritage city," he said.