'THOMIAN SOCIETY OF COLOMBO' in a colourful night
The Sapphire Ballroom of the Ceylon Continental Hotel was a blaze of colour. The miscellany in colour came from the well dressed ladies in their saris, shalwas and in their evening dresses while the décor took on the predominance of blue and black with an accentuation of white. The occasion was the 'Dinner Theatre' of the Thomian Society of Colombo' which, true to expectations, drew a 'full house'.
Following a lively time of fellowship between old boys of S. Thomas' College, Mount Lavinia, Gurutalawa, Bandarawela and S. Thomas' Prep School, Kollupitiya, Playwright Indu Dharmasena came up trumps with 'Jooli Hathai' which saw ripples of laughter emanating from a joyous audience. The comedy with political undertones and a cleverly conceived plot was well received by everyone who then went on to enjoy a sumptuous 4 course sit-down dinner.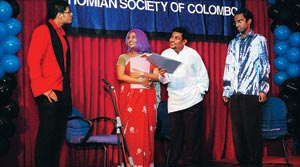 The distinguished audience, which saw the presence of Colombo's elite in addition to those from afar, ranged from Members of Parliament to high ranking professionals and businessmen. The Founder / President of the Thomian Society of Colombo, Dr Vijaya Corea, being a renowned communicator, took the microphone in hand to conduct the numerous draws that saw a long list of prizes being distributed by Dr David Ponniah, Warden, S. Thomas' College, Mount Lavinia ; Mr L A M Chandrasekera, Headmaster, S. Thomas' College, Bandarawela ; Mr Jacques Huyghebaert, Consultant, S. Thomas College, Gurutalawa and other leading personalities. There were air tickets to Bangkok, Bangalore and Chennai, gold coins and a host of other valuable prizes which went the way of many on whom lady luck chose to smile. The atmosphere at the 'Dinner Theatre' of the Thomian Society of Colombo was warm, unique and incomparable and bore the stamp of elegance. Everyone went away happy, contented and fulfilled. Project Chairman, Rangith Dias Abeyesinghe, was indeed a happy man that night !