'Samy's Story' goes from Gratien Award to glitz
'Samy's Story', Gratien prize winning novel of Capt. Elmo Jayawardena is being made into a film by young filmmaker Priyankara Vitanachchi and is in its post production stage. 'Samige Kathawa' the cinematic version of Jayawardena's 2001 country's Best English novel will soon be on the silver screen for local filmgoers to savour. Realising his childhood dream of making a 'good' film, Vitanachchi's maiden effort is about a simpleton who is ignored by the world.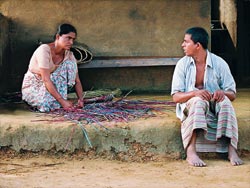 A scene from the film
Having followed a cinema and television course under veteran filmmaker Tissa Abeysekera, Vitanachchi flew to the United States for his higher education in Economics and Business Studies and enhance his knowledge of his much loved subject cinema. Having graduated in Economics from Los Angeles Valley College and Bsc in Business Administration from California State University, Los Angeles, Vitanahchi joined the University of California, Los Angeles (UCLA) for two certificate courses on filmmaking specializing in film directing. The short film he directed following the film studies, won UNDA felicitation organized by Catholic National Commission for Social Communication.
This followed two telefilms 'Samanthara' and 'Dikmana' directed by him. While the former was telecast on ITN the latter is still awaiting airtime. Vitanachhi was invited to teach script writing for the film workshops and training conducted at Peradeniya University, Sripalee University, Colombo University and the film course conducted at the National Film Corporation.
'I wanted somehow to make a movie. This is the main plan I had on my return to the country' said Priyankara Vitanachchi. His hunting for a story stopped at M. D. Gunasena where Jayampathi Rajakaruna recommended him Capt. Elmo Jayawardena's novel, 'Samy's Story' which by then had won the Gratien award.
"First my wife read it and recommended that it will make a good film. I too fell in love with the story which deals with a simple guy," he said.
'When I first went through the novel, the first thing that crossed my mind was the film 'Forest Gump', I thought that I would be able to do a powerful film of that style' says Vithanachchi getting ready for his first feature film.
'I felt for its main character's outlook on life. Though born with a mental disability, they too have dreams and aspirations in their lives. Even though not similar to what we search from life, they too search for love, fulfillment and economic security like any of us," he added. "Samy's source of happiness is to be a servant in a rich house with kind hearted landlords. So he knew at least he will be well fed there," Vitanachchi elaborated.
Now having completed the major part of the film Vitanachchi says that he is still waiting for a financial partner to join him to complete the rest."The term Producer is highly misused by the Sri Lankan film scene. The term producer has become a mere rich businessman without any creative background and someone who is ready to throw money,"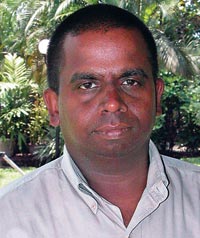 Director Priyankara Vitanachchi
'Producer is even superior than the director, for he becomes the creative administrator of the film. The director carries out the guideline given by the producer. Whether it is Hollywood or Bollywood, this is the worldwide accepted role of the producer' Vitanachchi explains. The people invest money for the film are executive producers. I am one of the two executive producers in my film. Describing his plans for the film release "I have plans to release the movie internationally through international film festivals," Vitanachchi said.
In addition to being a filmmaker, Priyankara is also a businessman running his own businesses. Speaking on investing money on films at present, "It's a risky job. People must take well calculated risks if the want to invest on films. They should not mortgage their houses and other properties to make films'. When inquired about production, Vitanachchi said "It was a collaborative effort".
"As you say in film language I was supported 'below the line and over the line'. I am glad that I got an understanding cast and a crew who always stood by me,".
'To be frank I owe some money to them too. But they never asked for it and they know that I will re-imburse them as soon as I get the money," the filmmaker said. Asked as to what he prefers between filmmaking and his business, Vithanachchi declared "Movie making is the greatest happiness while business is my passion,".
'Samige Kathawa'....
Hailing from a family with financial constraints, Siriratne is the eldest son and he is mentally retarded. Growing up with lack of parental affection, Siriratne and his brother, Jaya give up their education.
Siriratne becomes a domestic aide and is called 'Sam' while his brother enlists in the army. Following the news that his brother had died in action, Sam starts hating Tamils.
To worsen the situation, Sam had to work with two other domestic aides, Gowri and Selva who are Tamils. Conflicts over their ethnicity begin among the domestic aides. Yet the landlord treats them equally.
The film takes a dramatic turn when the master of the house dies in a bomb explosion in the city. What would be the reaction of the three domestic aides? This creates many a confusion and conflict in the family.
The star-studded cast brings the fine performance of Jagath Chamila, Sanath Gunathilaka, Menik Kurukulasuriya, Nilmini Buwaneka, Victor Ramanayake, Kusum Perera, Thesara Jayawardane, Anushka Vinodini, Vathika Ravinath, Malinda Viraj, Bennie Clariston, Wasantha Perera, Welegedara Ranasinghe, Vinnie Wettasinghe, Mangala Fernando and Nisansala Edirisinghe.
Cinematographer Ruwan Costa, art director, Welegedara Ranasinghe, costumes by Athula Sulthanagoda, edited by Shyaman Premasundara while the music director is Sarath Wickrama.
Screenplay written by Pushpakumara Ellawela and Vithanachchi himself 'Samy's Story is produced and directed by Priyankara Vithanachchi.
Executive producers of the film are Dayashantha Fonseka and Priyankara Vithanachchi