Ajith writes on 'Faulty Acting' in our cinema
Writer and journalist Ajith Galappaththi's latest book 'Ape Cinemawe Mithyacharaya' will be released on September 7, at the International Book Fair at the BMICH. Published by Godage Publications, the book which Ajith translated the title as 'Faulty Acting in our Cinema' included critical letters on films of 38 Sri Lankan filmmakers. This massive 584 page book contains 77 articles with a set of over 200 rare pictures of films.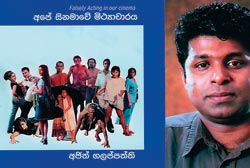 'Ape Cinemawe Mithyacharaya' highlights the works of filmmakers including Dr. Lester James Peries, Vasantha Obeysekere, Dharmasena Pathiraja, Daya Wimalaweera, Sumithra Peries, Sunil Ariyaratne, Ashoka Handagama, Prasanna Vithange, H. D. Premaratne, Somaratne Dissanayake, Milton Jayawardena, Eranga Senaratne, Linton Semage, Tikiri Ratnayake, Yasapalitha Nanayakkara, Mohan Niyaz, Priyantha Kolambage, Roy de Silva, Jayantha Chandrasiri, Jackson Anthony, Chandraratne Mapitigama, Ariyaratne Vithanage, Chandran Rutnam, Herbert Ranjith Pieris, Sunil Soma Peiris, Mario Jayatunga, Udayakantha Warnasuriya, Ranjan Ramanayake, Anura Horatious, Gamini Luxman Fernando, Sanjaya Nirmal and Senesh Dissanayake. The books also has dedicated a chapter to the history of Tamil cinema in Sri Lanka centering Dharmasena Pathiraja's Ponmani.
Graduating from Kelaniya University, Ajith is involved in post graduate studies on Sri Lankan cinema. He also has written two books titled 'Tony Nam Ohu' and ' Lankeeya Cinemawe Sakman Maluwa'.