'Palinka' Jazz quartet to perform in Colombo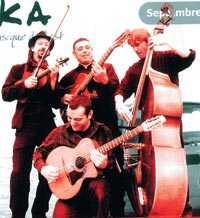 'Palinka', Jazz manouche Musique de lest, a Jazz concert will come alive on September 7 at 7.00pm at Samudra Ballroom, Taj Samudra.
'Palinka' a jazz quartet, specialize in Gypsy Jazz from Paris will be in Colombo for a couple of Concerts. They will be performing in Colombo as well as in Kandy.
'Palinka' is formed in 2003 in Paris. The quartet is also popular for their music from Eastern Europe. They have toured all over Europe, specially in Eastern bloc since 2004.
This is their first tour to this part of the world. Their debut album 'Un Malin Plaisir' released in late 2003 was very popular in French Jazz community.