Tanuj:A director in the making
'Nisala Gira' (Silent Honour) is the next film listed to be released in the CEL circuit cinemas following Sunil Ariyaratne's 'Uppalawanna'.
Produced by Nita Fernando the film has many novelties to boast about. The theme depicting drugs racket in the upper class of the society which is highlighted in a serious work of cinema for the first time, also introduces new scriptwriter and an executive producer, Yolanda Weerasinghe and Production Manager Wichintha Ilankoon. Most of all Nisala Gira is also the maiden film direction of promising young filmmaker Tanuj Anawaratne.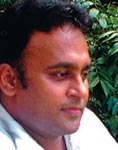 Tanuj Anawaratne
Having completed successfully his maiden film, TV Times spoke to Tanuj , an award winning playwright, teledrama director and assistant director for two controversial feature films 'Flying With One Wing' (Thani Thatuwen Piyabanna) and 'Letter of Fire' (Aksharaya) by Ashoka Handagama'.
TVT: What do you feel about a new producer selecting you for her film?
Tanuj: I feel honoured and I am grateful to Nita Fernando for the trust she placed on me. I feel that the film is an investment for my future career, as it enabled me to earn a name in the industry. I got this offer while I was awaiting to do a film of my own with my own script with experience and confidence I had gathered by assisting Handagama in his last two films. But I am glad that this came my way.
TVT: Do you mean that you were not fully satisfied by making a film with a given story?
Tanuj: Had I been not satisfied I would not have accepted this offer. It was not that I was not satisfied, it's a fortunate thing that a filmmaker is able to make a film from his own script and story idea. In that way filmmakers like Ashoka Handagama are really lucky.
The other fear I had was the main issue in the film, drug mafia in the upper class focused by the script writer and producer. This was an area I was not very familiar with and it focused an area that we have never thought of about drug trafficking. And I also had a fear that would it be the end of my career because it begins by doing a film on a issue you are not very much aware of.
TVT: Did you have to change the script?
Tanuj: Yes. Sitting together with Yolanda, we made some changes to the script which was a combination of several stories. TVT: Having made a film on a one of the social menaces do you think that you were able to fulfil a responsibility toward society. Tanuj: I personally don't believe that the responsibility of the filmmaker is to change society or passing messages. There are politicians and religious leaders to do that. If that was so we could have made films to solve all the problems in this society. But like every other artiste I have something in me to express to the world. And what we do with our work of art is that.
TVT: What do you feel at the completion of your film?
Tanuj: From the very first day the producer informed about this film, I did not take it as a massive challenge. While I have scheduled the filming for 30 days many, considering our newness to the project predicted that it would at least take 60 days. But we had arranged everything properly and had a very smooth finish in just 27 days with locations in 29 places. Working with Ashoka Handagama, I learnt this planning and discipline in filmmaking.
TVT: Given the present situation it is a bigger challenge to attract the audience than making a film. How do you face this challenge?
Tanuj: As a director I did my job to the satisfaction of the producer. And marketing the film is mainly the producer's job which today is a real problem given the present situation in the country. People should have a proper mind set to go for a film. Unlike other countries people go to the cinema merely for entertainment. They do not go to see film a as a work of art. And on a holiday having done all the other routine work like visiting friends and relatives, going for a film is also the last option for them. And other problems like transport and security situation prevailing in the country also affects their going out.
So we might have to employ novel techniques to carry out our publicity campaign. After all film publicity itself is an art. The publicity campaign should be able to bring out the quality of the film with its advertisement.
TVT: On the whole what have you got to say about 'Nisala Gira'?
Tanuj: Once again I should be grateful to the producer for giving me this opportunity and also all the members in the cast and the crew without whose support I would not be able to complete it in this way.