Try to win a few games and take it from there -- Bayliss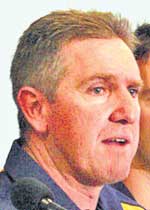 Trevour Bayliss
It was bit of a set back for the new Sri Lankan coach Trevour Bayliss as the prevailing damp conditions impeded their progress towards the inaugural twenty-20 quest as several scheduled practice matches were washed off as a result of the incessant rains. An exasperated Bayliss said "I hope we can fit in a game or two within the coming days."
Speaking to the Sunday Times about his progress so far as the new Lankan coach the former New South Wales coach said "It's been three weeks since I started working with the guys and we are just falling into a set pattern getting to know each other and things look great in the present perspective"
When queried about his chances at his first major assignment as coach – at the Twenty-20 World Cup in South Africa in a few days hence, Bayliss said "In spite of our limited experience in this version of the game, we will go out there and be as positive as we could and win a few games before we look ahead." Thereafter Bayliss also added "However a thing that is going for us at the moment is our prowess in the limited overs game and we will try to harness that ability to fit into the twenty-20 version of it".
Commenting on Sri Lanka's ace spinner Muttiah Muralitharan's arm injury and how it would impact the performance in the Lankan team in South Africa, the Lankan coach said "Still we are awaiting his return to the island on Sunday (today), to ascertain to ourselves how bad his injury is, we hope that he would back on the bowling crease without much delay".
Meanwhile a SLC communiqué stated that Muttiah Muralitharan has been compelled to pull out of the Twenty 20 World Cup squad due to an injury. Off spinner Dilruwan Perera will join the squad as a replacement.