Murali has not, and will not join ICL
ESPN reports Murali joining ICL for US $ 2.5 million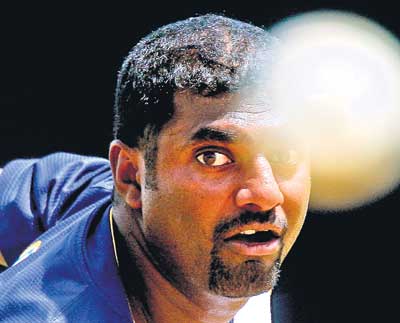 Murali needs only 9 more wickets to become the all time great
Sri Lanka's champion off spinner Muttiah Muralitharan was surprised and furious over a news item in an International Sports Channel ESPN which stated that he has signed a contract with the Indian Cricket League (ICL) for US $ 2.5 million.
In a purportedly exclusive report ESPN said on Friday night that the star spinner has signed the contract and will be a part of the ICL's controversial Twenty-20 tournament. Reacting to the news Muralitharan's Manager Kushil Gunasekera contacted the spinner who is currently in England and later told The Sunday Times that the news report is false and Murali has no intentions in joining the ICL.
"Murali was surprised and angry as to how and why his name has been linked with ICL at this stage. He categorically denied the report. He is still a contracted player with Sri Lanka Cricket (SLC) and his priorities are to play for his country. There is absolutely no reason for him to sign with ICL", said a disturbed Gunasekera.
Last afternoon Gunasekera got in touch with the Sports Editor of ESPN in Singapore and the latter has admitted it was a mistake and promised to broadcast a correction on Monday.
Meanwhile as the Sri Lankan squad made their final preparations for the Twenty-20 World Cup, questions were raised among players and cricket fans as to why their champion spinner, who is now ruled out of the tournament, bowled almost four hundred overs at an average of 50 overs per game for Lancashire in the eight games he played for the county this season.
The Lankan spinner has sent down the second most number of overs this County season -392 overs. Only Mushtaq Mohamed who plays for Sussex has sent out more overs (533) than Muralitharan. However Mushtaq has played in 12 games while Murali played in only eight games. Australia's leg spin wizard Shane Warne who is captaining Hampshire has bowled only 353 overs in his 12 games for the County.
Muralitharan may be used to bowling 40-50 overs for Sri Lanka in Test matches but should the spinner be bowling a similar number of overs repeatedly for a county? It is evident that his current injury is as a result of the continuous strain on his biceps. As a result of all this Muralitharan will be now confined to a spectator when the inaugural Twenty-20 World Cup begins next week. It is hoped that during this period the 35-year-old off spinner will sit back, take stock of his progress and get his priorities right for the next few playing years.
It is also baffling to note that the cricketers who are representing different counties have not arrived in Sri Lanka to join their colleagues at practices. The general practice is for all the selected cricketers to come back from where ever they are playing and start practicing as a team before any tour or tournament. However in this instance only Sanath Jayasuriya returned and joined the rest of the players at practices while Kumar Sangakkara, Muralitharan, Chaminda Vaas and Lasith Malinga are expected in the island today.
Isn't it the duty of Sri Lanka Cricket (SLC) to ensure that their players, who are their contracted employees, to return on time for practices ahead of an important ICC tournament?