Coaches find their feet
Coaches became the focus of attention like never before during and after the just concluded World Cup. Never before were their jobs scrutinized and performances dissected as during that time. It was also a period of time when there was movement of coaches in most of the test playing countries.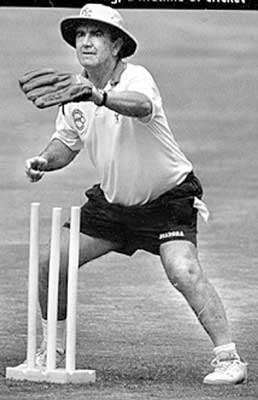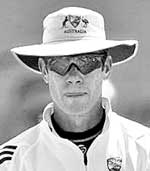 John Buchanan and Bobby Simpson – two individuals who brought a new meaning to the term coaching.
Since technique started to get established, coaches have been in existence. Initially past players, then those who played and some who didn't but were deeply committed to studying the game, being involved in this profession. Coaches have existed for well over a hundred years. However, up until about twenty years ago, coaches were mainly associated with youngsters learning to play the game.
My regulars, continued association with coaches ended after playing school cricket. As a member of SSC first and second eleven teams between 1972 and 1990, the club never employed a full time coach. Past players and seniors in the team used to advice the younger players and iron out any shortcoming. Looking back, we would have benefited had their been a coach, providing the guidance the every player require. Even at national level, it was an honorary responsibility and there was little continuity. It was also difficult because tour or visits of international teams were few and far between. It was definitely a case of learning through experience and learning whilst on the job. It was only after Sir Gary Sobers had a stint in 1983 and 84, that a regular coach was appointed to Sri Lanka.
Former Australian Captain Bobby Simpson, could be rated as the father of International Cricket Coaches. Simpson had an amazing playing career opening for his country and going all the way to be the captain, taking over from Richie Benaud. Then, nearly twelve years after retiring he was called back to lead the country, when most of the players were banned for joining the Kerry Packer series. For a couple of series he made a good fist of the responsibility. Then when the team was in the doldrums in the mid eighties, when he was offered the job as coach, Simpson stepped in. He had a willing partner in Captain Alan Border. Their first success was winning the 1987 World Cup. From there on, there has been no looking back in Australian cricket.
An international cricket coach has to be highly disciplined. Discipline on every front. Be it planning, punctuality, addressing team meetings, addressing the press, relationship with the administrators and selectors and relationships with the players themselves. Most of these areas cover the most vital aspect of communication. He must be tremendously self-motivated and must never give up. Like a successful captain he must see a few steps ahead of what is going on around him. The job has now taken another direction. Coaches, like curators, umpires, commentators are a separate breed.
Greg Chappell's inability to motivate India to success proves that point. Being an outstanding player does not guarantee success as a coach. Should an outstanding player want to take up to coaching, then he must get into the cloak of an outstanding coach.
True, John Buchanan inherited a strong Australian team, but the individuals and the side continued to improve and excel. He made certain that the bar was being raised all the time. Buchanan's playing experience is limited to just a few first class games, but he mastered the art of coaching. During his tenure as a coach Australia played 91 tests and won 70 (78.02%). They played 217 ODI's and won 161 of them (74.19%). A truly remarkable record.
Australia, England, West Indies, Pakistan, Bangladesh, Sri Lanka have new coaches on the job. A number of them are non-internationals. They are professional coaches and that is what matters to them, the players and those who selected them for the job. They will all meet shortly at the Twenty-20 World Cup. The result of that will not reflect much on them. It is the time for them to find their feet.
In an interview after the World Cup, Tom Moody was asked what persuades him to do this often thankless job. His reply, "The satisfaction of seeing the team executing the ideas and ploys you've planned in advance and being involved in team success. I remember more team than individual success. That's what makes me tick." Trevor Bayliss and other newcomers must nod in approval!