When Susie pulled another rabbit out of the hat
"My strength is the people of my country who love me. It is the greatest blessing I have" Jayasinghe said after her win on Saturday, though she knows the same people hate her with their might when she fails to deliver.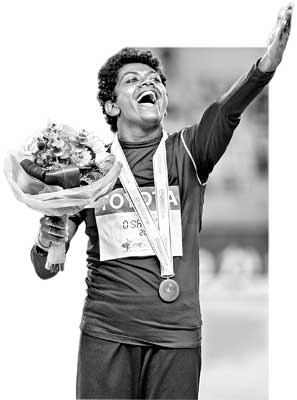 Susanthika Jayasinghe
Susanthika Jayasinghe was on the familiar path of Sri Lankan sportsmen at the twilight of their careers - ignored, uncared, condemned and forgotten.
Nobody was willing to give her a second chance. But then, who gave her a first chance?
Her fame, glory, recognition, achievements were the result purely of her courage, dedication skill against a society that was waiting to trample her down.
Jayasinghe has won unprecedented glory for Sri Lanka and Asia with two world championship and an Olympic medal, all of which interestingly came when they were least expected.
But none more out of the blue than her latest triumph, against odds on Friday night at the Nagai Stadium in Osaka.
Even the most respected authority on Track and Field in Sri Lanka Dr. Yogananda Wijesundera explained to Sunday Times two weeks ago why Jayasinghe has so little chance in the 200m, though she had a tiny chance of entering the final of the 100m.
That is what even the best expert in the world would tell you, because it is the fact based on scientific findings.
That Jayasinghe has the ability to confound all known norms and accepted standards, is however the common knowledge of millions of Sri Lankans, who know her true talent. Interestingly that is one fact that motivates her.
"My strength is the people of my country who love me. It is the greatest blessing I have" Jayasinghe said after her win on Saturday, though she knows the same people hate her with their might when she fails to deliver.
Jayasinghe's performance level nose-dived following her Olympic medal at the Sydney 2000 Games, and in 2003 and 2004 her 200m timings dipped below 23 seconds, suggesting she was on the downhill of her career.
But it picked up dramatically just a month ago in Amman when she became the Asian champion in the sprint double, but who could give her a chance at the World championships?
From Amman, Jayasinghe flew straight to Los Angeles for a month-long training session under a reputed coach and it had done wonders.
There were uncanny scenes on Friday night at the mixed zone where journalists meet athletes after an event when Jayasinghe fell crying on the shoulders of four waiting Sri Lankan journalists and bellowed how grateful she is to her parents for bringing her up.
But she regained her composure to face foreign journalists and as usual won their hearts with her unending chatter. "My performance level dipped in the past two years or so, because I was nursing a serious stress fracture in my right leg. I took it easy as I recovered step by step. It will end only when I win the Olympic gold. It is certainly a possibility and it won't take long. It will come next year in Beijing." She made her first utterance of confidence for a long time, giving auspicious signs.
At 31, Jayasinghe has baffled sports science achieving something almost impossible, but it should be remembered that Merlene Ottey won the 200m gold in 1995 World Championships at the age of 35.
Even Jayasinghe had more hopes in the 100m. "I had a lot of hopes for the 100m," she said after her shock disqualification last Sunday and it reflected on her extremely slow reaction times to the starter's gun right through the 200m.
Then her medal which surprised even herself has instilled a lot of self confidence all of a sudden and her first exclamation when she met journalists after her win on Friday was "See, how well I can run!"
Her victory is even more impressive considering the impressive field she was running against. Winner Felix Allyson of United States who ran under 22 seconds for the first time in her life was in a different league as she retained her title. Silver medalist Veronica Campbell of Jamaica won the 100m title just five days ago.
Fourth placed American Torri Edwards was the 2003 world champion in the event, fifth placed American Sanya Richards, who was the 2005 400 meters world champion and was declared last year's world athlete of the year.
Jayasinghe indeed can run and she is not finished. That is the message she wants to give all Sri Lankans as she arrives back in the country on September 4.