Veteran athletes bring glory to Sri Lanka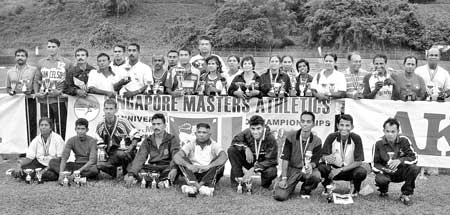 The Sri Lanka team at Bukit Gombak Stadium in Singapore.
Sri Lankan veterans proved their prowess when they bagged a special award for the best performers at the Singapore Masters Athletic Meet held at Bukit Gombak Stadium on 29th July 2007. In spite of the inclement weather conditions that prevailed during the morning hours, they won the most number of medals with 17 gold medals, 23 silver medals and 22 bronze medals.
H.H Thambaralatha was declared the best women participant in the meet by winning gold medals in the 200 and 400 metres events and a silver medal in the 4 x 400 metre relay.The team was ably led by S.P.Rupesinghe (team captain) and S. Bogahawatte (manager) both of whom also participated. Since returning to Sri Lanka , H.H.Thambaralatha who was the top woman athlete at the meet received numerous accolades both from her employer Sri Lanka Telecom and from the people of her home town in Makandura, Matara. As a result of her achievements her ancestral home has been provided with electricity.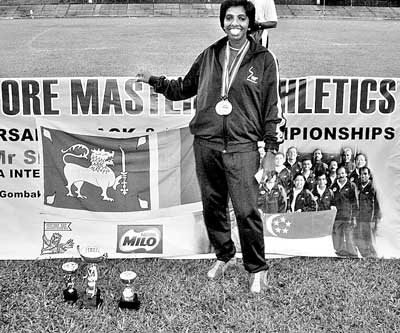 Ms.H.H.Thambaralatha who was the best woman athlete with her trophies at Bukit Gombak Stadium in Singapore.