US tells Govt. to protect Athas and family
The United States has asked Sri Lanka to take measures to ensure the safety of Iqbal Athas, The Sunday Times Consultant Editor/Defence Correspondent and his family. The US Government's position was spelt out in a written response on Friday to a query raised at the State Department news briefing on Wednesday by CNN's Zain Verjee to Tom Casey, acting Spokesman. Here is the written response:
"Regarding allegations that Iqbal Athas and other journalists in Sri Lanka are being persecuted: "We are concerned by the threats against Mr. Athas, an internationally respected Sri Lankan journalist, and have inquired about the decision by the Sri Lanka government to remove his protective details. We have urged the Government of Sri Lanka to investigate these threats and take measures to ensure the safety of Mr. Athas and his family.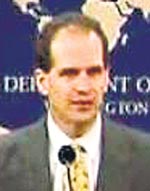 Tom Casey: State Dept. Spokesman
"I refer you to Sri Lankan authorities for further details." Ms. Verjee who covers the State Department for CNN asked acting spokesman Casey on Wednesday: "I would like to take you to Sri Lanka now where the Committee to Protect Journalists there has written to the US Embassy essentially asking for help with a journalist there called Iqbal Athas. What's happened is that - the government has pulled the security detail after he wrote some unfavourable articles about them. Are you concerned about Athas and what, if anything, any kind of pressure is the US putting...
Casey: "Zain, I'm afraid I'am 0-for-2 now. I'am not familiar with that specific case. But certainly, I am sure we'll treat seriously any questions that are raised about intimidation or threats made to journalists, whether it's in Sri Lanka or anyplace else. Certainly we want to make sure that people are not prosecuted or persecuted for expressing their beliefs in any country. And we certainly take very seriously any threats against free media or freedom of the press, certainly because you and your colleagues are part of how the broader public understands issues and part of how governments are held accountable. So I'm sure I will look into this for you and see if we have any more specifics in this case."
In his weekly page Situation Report in The Sunday Times of August 12 Mr. Athas exposed details of how the Government of Ukraine was conducting a probe into the sale of MiG-27 fighter jets from that country to Sri Lanka. The Government acknowledged that matters revealed in his exposure merited its own investigation. Prime Minister, Ratnasiri Wickremanayake moved in Parliament to appoint a Parliamentary Select Committee for this purpose.
Yet, just days later Lt. Col. (retd.) Gotabhaya Rajapaksa, Secretary to the Ministry of Defence, ordered the withdrawal of personal security assigned to Mr. Athas for over two and half years.
He also ordered the withdrawal of a static Police guard placed outside his house for over nine years after a group of armed men entered his house and threatened him and his family. Immediately thereafter various attempts were made to intimidate and threaten him. Main among them was a demonstration staged outside his residence and organised by sections of the government. In slogans chanted by them they charged that Mr. Athas was a Tiger guerrilla acolyte. This was aimed at provoking residents in the neighbourhood and to give a message to other journalists of the fate that would befall those exposing corrupt activity.
The Athas affair had drawn angry protests from a number of international organisations. The Washington based Centre for Public Integrity (CPI) said in a letter to President Rajapaksa said: "As an organisation created to foster high quality journalism in the United States and around the world, the Centre for Public Integrity joins many other groups in the United States and around the world to request that Iqbal Athas be protected, his and his family's safety safeguarded immediately....."
CPI added: "A free press is a symbol of a mature and robust government, one that doesn't need to silence dissenting voices and hide uncomfortable truths in order to rule. It is our strongly held belief that Iqbal Athas and all other local and foreign journalists in Sri Lanka should be able to do their work in an environment of tolerance and respect, without fearing that they or their families be targeted in retaliation for what they have written."
Mr. Athas is a member of the CPI project, the International Consortium of Investigative Journalism (ICIJ). It was launched in 1997 to extend globally the Centre's style of watchdog journalism in the public interest by marshalling the talent of the world's leading investigative reporters. Membership is peer recommended and the ICIJ has a membership of 100 in 50 countries. Some senior members of the ICIJ are to propose that the organisation conduct its own investigation into the MiG-27 deal.
Charles Lewis, President of The Fund for Independence in Journalism wrote to Sri Lanka's Ambassador to United States, Bernard Goonetilleke. He said: There are many governments, multilateral institutions, investors and journalists throughout the world who would see any kind of violence against Mr. Athas as a sign of deterioration and disregard for human rights in your country...."