NC will restore people's rights: Ranil
The Government has violated the people's right to vote by signing secret deals with the LTTE during the Presidential election and the national Congress is committed to restore the rights of the people which are being violated by the present Government, Opposition UNP Leader Ranil Wickremesinghe said.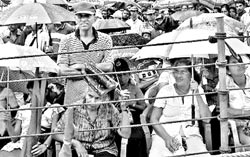 Crowds bravin g the rain to hear the speakers at the UNP-SLFP (M) rally held at Ratnapura.
Addressing the fifth Jana Ralla in Ratnapura town organised by the UNP and SLFP (M) on Friday, Mr. Wickremesinghe said the Jathika Hela Urumaya had kept aside its election motto of 'Dharma Rajyaya' to support the Government.
"The JHU members in their bid to attain Nirvana sold the car permits given to them. That was followed by the sale of radio licences issued to them," Mr. Wickremesinghe said.
Commenting on the increasing oil price he said that though the oil price in the world market had decreased from US $ 68 a barrel to US $ 65 a barrel since last year, the oil price in Sri Lanka did not go down correspondingly, due to irrational printing of money by the Government.
"The value of the dollar which was Rs. 93 during the UNP regime in 2004, is today at a staggering Rs. 113. The prices of all other items have gone up," he said citing the price of gas which had increased up to Rs.1298 a cylinder from Rs.550 a cylinder since 2004.
Supporters allegedly attacked
Supporters of the 'Janarala' rally who had come from Kalawana to take part in the Ratnapura meeting had been allegedly attacked on their way back, by a group which had come on motor cycles.
Three buses had been allegedly attacked by the assailants who had thrown stones at the buses while some had boarded a bus and allegedly assaulted the persons in them. Eight persons were injured. Ratnapura UNP MP Thalatha Athukorala said a PA member of the Nivitigala Pradeshiya Sabha was involved in the attacks.
"Their retinue to Beijing was over 200. They take their friends to see cricket matches abroad by using the people's money. He has started his own airline called 'Mihin Air' which is running at a loss. The airline cannot afford to pay its fuel cost and the public would have to carry that burden too," the Opposition Leader added.
Addressing the rally Mr. Mangala Samaraweera requested the JVP to join hands with them to topple the Government."It is for the good of the nation and not personally for Ranil or me. Two more years of this Government will finish the nation. Only the Jathika Sabha can find a solution to the ethnic and other problems of our country," he said.