Apathy behind big sting at Sigiriya
Little is being done to protect visitors from the wasps at this historic site
More than a thousand visitors to Sigiriya have been stung by wasps in the past two months but authorities are taking little or no preventive measures, The Sunday Times learns. Residents in the area and visitors to this heritage site complain that even the enclosure which is meant to be used for safety at a time of a sudden attack by the wasps is in a dilapidated condition providing little or no protection.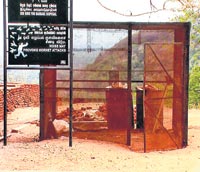 The safety enclosure with damaged protective netting
The Sunday Times also learns that officials of the Cultural Triangle have so far failed to ascertain the reasons behind the recent spate of attacks by the wasps.
The most recent attacks occurred on Monday and Tuesday and visitors including foreigners were seen with covers like mosquito nets over their faces being assisted by Air Force and Police personnel to come down the rock.
Some of those stung were taken to the closest hospital at Kimbissa while the more serious cases were taken to Sigiriya hospital.
Although the hospital at Kimbissa has little facilities, doctors and attendants despite the absence of nurses did their best to help the victims. Some of them had no option but to lie on the floor due to lack of beds.
D.G.Punchibanda a resident of the area said the wasps only attack if they feel threatened. He said the prevailing windy conditions too may be a reason for the spate of attacks.
The Sunday Times also learns in this day and age of easy communication, in the event of an attack by the wasps, there are no means of communicating a warning to those at the bottom of the rock, to stop them from proceeding further.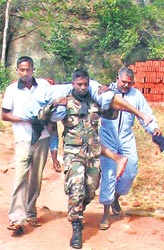 Air Force personnel helping those who were caught up in the milieu of the wasps attack last week
It is also learnt that those on public holidays like poya days there are no Cultural Triangle vehicles at the site in case of an emergency to transport those who have been attacked as the drivers go on leave. This was apparent when the attack occurred on Tuesday which coincidentally was a Poya day.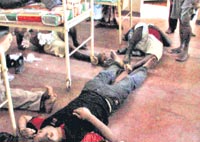 Victims lying on the floor at Kimbissa Hospital
The netted enclosure close to the Sinhapada (Lions paw) area is currently not used as the protective netting has been damaged. Although officials have been informed little has been done The Sunday Times learns.
Visitors have also suggested that a brochure or leaflet containing instructions in case of an attack by wasps should be handed over to them when tickets are being issued.
When we contacted Sumedha Karunaratne a project manager in charge of Sigiriya he said he couldn't comment on the issue but agreed that counter measures would have to be taken, otherwise it would discourage tourists from visiting this historic site.