Heaps of acting and dialogue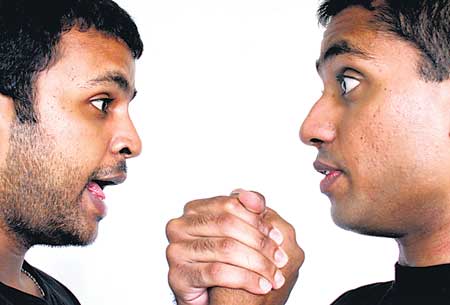 Mickey and Eddie
Well they most definitely make their presence felt – that's for sure! Walking into the rehearsal room of the Lionel Wendt during a Sunday practice session of a certain well-loved theatre group, I was sure in for some interestingly organised chaos…to say the least.
While one of the seniors ran through a scene with one section of the cast, and a few others practiced a dance routine for a song, huge hulking guys shot imaginary bullets at each other in one corner of the room, while the music director sat on a side, observing, and jotting down noteworthy points.
This, the cast of Blood Brothers, the upcoming production of the Workshop Players, was probably the most energetic, immensely versatile, committed (and of course a bit sweaty!), bunch of people I've met in a long time. Here were thirty individuals, doing what they love doing, and giving their best to offer the audiences a show to remember – of course led by their exceptional director Jerome de Silva, with the musical aspects taken care of by Surien de. S. Wijeyeratne, the production's music director.
Described by the playwright Willy Russell himself as a play with music, rather than a musical, the production has relatively less singing and heaps more acting and dialogue. Set in Liverpool England, the storyline is seemingly simple, but when observed carefully, is a complex presentation of human behaviour. The plot revolves around the lives of a pair of twins, separated at birth, facing very different consequences in life, but whose fate is continuously intertwined with each other's, right up to their untimely death.
And so, trying my best not to disturb their strenuous practice session, I caught up with some of the lead roles…
A narrator's role, put simply, is to tell a story. But in this instance, the narrator takes on the role of the "prophet of doom," or "the voice of fate." Ashan Dias, Dominic Keller, Prasad Pereira and Ramesh Maheswaran play the part, an evidently tough undertaking, having to play multiple roles along with the primary role of the narrator. "This character basically controls how the story unfolds. Whenever things seem to be going well, he comes on stage and declares some unfortunate twist in the plot. Basically spoils the mood," says Ashan.
The way Prasad sees it, "The musical is a comment on the class system. It's a story of nature versus nurture. And there is lots of dialogue and rich characterisation, that is sometimes absent in musicals." They all agreed, in unison, that singing along with the acting is a huge challenge. "Especially for the rhythmically challenged like ourselves! Ashan of course, being the ballerina he is, is doing fine!" added Ramesh and Prasad.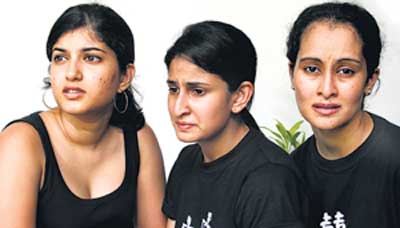 Mrs. Johnstone
Mrs. Johnstone, the birth mother of the twins, played by Shanuki de Alwis, Dilrukshi Fonseka and Kisholi de Mel, is an extremely intense and emotional role. "Coming from a not so well to do family, she is a superstitious, poorly educated woman, abandoned by her husband, and having to care for her seven children, while expecting twins. She's just about 30-years-old at the start of the play, but looks about 50, due to all the hardship she has to endure. And to prevent her kids from being given over to the Welfare, she agrees to give one twin to Mrs. Lyons, the lady she works for, and who can't have children of her own, under the promise of being able to see her child grow up," says Shanuki. But once the child is given, the promise is broken, and Mrs. Johnstone is stripped of her job.
"She's down and out with life, but has a great relationship with her children, and though life is very hard for her, finds a reason to smile," says Dilrukshi, adding that aging during the play makes the role all the more challenging.
"The characters of her children, from childhood to adulthood, are played by the same people, so one of the main challenges is to play the role of the mother to these guys who are much, much bigger than us, and most importantly to do it convincingly!" says Kisholi, being the smallest "mother," making the job even harder for her.
While Shanuki doesn't really like kids in reality, and Kisholi on the other hand loving them (and would even love to be this character in real life), the way in which they relate to their roles is interesting. Shanuki for instance, has to use quite a creative method (which I will refrain from putting down here!), in order to bring out her emotions in a scene with her and the twins while they were babies.
This being a production quite different to what the Workshop Players normally do, leaning more towards reality, and low on the general pomp, the real challenge will be to perform it convincingly enough to make the audience like it," added Shanuki.
Playing Mickey, one of the Johnstone twins – who can be best described as low class, soft-hearted, good natured and easily influenced – is no easy task. "One of the hardest things about playing this role is the fact that we have to show the progression of the character, age-wise. We start by playing a child of about 7 years, then a teenager, and finally a young adult," says Mario de Soysa, who plays Mickey, along with Ruveen Dias. "We did lots of observing of kids, since you have to get the hang of how they walk, talk, sit, hold things, and even exaggerate certain things," says Ruveen.
But even harder to play than the child and the adult, are those troublesome teenage years, where the illusions of childhood are broken, and certain realities start taking over. "This is the period where Mickey realises the difference between his best friend and himself. Without the knowledge that they are twins, the boys become best friends, and as they grow up, the class distinction starts becoming obvious," says Mario, adding that this phase is the forerunner to the most important part of the play. "The life of Mickey's character starts getting very hard, with him being married at 18 or 19, his wife expecting a child, and to make things worse, he realises that he knowingly or unknowingly is dependent on his best friend Eddie, for almost everything in his life, This, tied up with a few more unfortunate incidents, eventually pushes him into depression," says Ruveen. "It's definitely a challenging role to play – from this absolutely bubbly kid with no care in the world, to a completely broken person," added Mario.
Eddie, the other Johnstone twin, who is given away by his mother, and who grows up in the privileged Lyons household, according to Eraj de Silva, who plays the role along with Jithendra Seneviratne, "is a very proper, sheltered, inhibited boy. In the first half of the play, his role is played almost to the point of caricature." But in reality, he wants to break away from his inhibitions and lead a life like Mickey's. "In a way, they both want to be like each other, but for very different reasons. While Eddie wants everything Mickey has, that money can't buy, Mickey on the other hand wants the material aspects of Eddie's life," says Jithendra.
"To play a contained, controlled personality throughout the play is quite challenging, because you have to strike a balance between bringing out his characteristics, while not over acting," says Eraj, while according to Jithendra, the playwright uses the two brothers to bring out what's missing in each other. "He very cleverly uses the two characters to compliment each other."
Mrs. Lyons, played by Anushka Pereira and Shannon Misso, is interpreted by the two, in two different ways. "She is a good woman, though she is made out to be mean. As her adopted child grows up, she gets increasingly paranoid that her secret will be found out, and she tries to control Eddie. The fact that she in not in control of this one situation in her life, takes over everything else in her life," says Anuksha.
According to her, the challenging part in playing this role, is the fact that Mrs. Lyons is not on stage that much. "So to portray her going from a genteel woman to an absolute psycho, effectively, while not being on stage too much, is pretty tough."
"She's a very messed up woman, but of course it's the circumstances of the burden she has to shoulder on her own, that drives her to this. The paranoia of her secret being revealed, drives her completely nuts, and she is the one who actually, perhaps not expecting such a drastic outcome, causes the ultimate tragedy in the story. I'm enjoying playing my part – going from this confident woman to someone completely off the rails," says Shannon, adding that it's quite a gut-wrenching play overall as well.
Linda, played by Marisa de Silva, Jovanka Perera and Tanika Fernando, is a girl who comes from the rough end of the town. "She is a tomboy of sorts, who grows up with Mickey, seeing him as some sort of idol," says Tanika.
Jovanka goes onto add that "She has a perpetual crush on Mickey, her childhood sweetheart, from like forever! But she is the tougher of the two, and she's the one who looks out for Mickey at all times."
Though she proclaims her love to Mickey at every given opportunity, he ignores her, while Eddie on the other hand, treats her like a lady, and this difference gradually becomes evident.
"For instance, Eddie sings her this beautiful song that says he loves her, but circumstances are such that by the time he asks her to marry him, and though she realises that she has always loved him in a way as well, she is already married to Mickey," says Tanika.
"But she is always there for Mickey, throughout his bad times, putting up with his tantrums and his depression, but things never seem to get better for her," says Jovanka, adding that circumstances drive the character to make some wrong choices. (Of course other members of the cast, in the form of Ashan and Ruveen, had a totally different opinion of Linda!).
And so to find out more about the "blood brothers," their trials, triumphs, love and ultimate tragedy, make a note of this – "Blood Brothers" will be performed from September 14-23, at 7:30pm, at the Lionel Wendt. The Electronic media sponsor is YES FM, while print media sponsors are The Daily Mirror and The Sunday Times.