Library auditorium yet to come up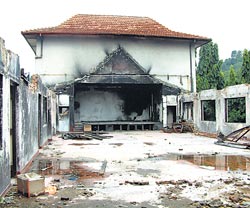 The burnt auditorium
One year after the Kandy Public Library auditorium was burnt down in a fire and pledges made that one of the most modern libraries would be put up, no action has yet been taken to reconstruct the building. Kandy Mayor L.B.Aluvihare told Kandy Times he hopes to get help from India, China or Japan to rebuild the library as the council does not have the money to fund its reconstruction.
The auditorium was completely burnt in a fire which occured during a musical show last year. Soon after the fire, Mr. Aluvihare had declared he was planning to build a better auditorium with modern facilities.
The area where the fire broke out has now been declared a restricted zone and no persons are allowed into the area. The auditorium was available for public events, but after the fire destroyed it, alternate places have to be found to hold events such as literary festivals and book launches.