Elderly Indian farmer wants to father to 100
JODHPUR, India (AFP) - An Indian farmer who has fathered his 21st child at the ripe old age of 90 says he wants to carry on having children until he is 100 -- but his wife is throwing in the towel.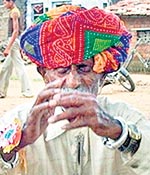 Nanu Ram Jogi
Nanu Ram Jogi is revered by the menfolk of Paanchimli village in the western desert state of Rajasthan where the nonagenarian lives with 109 members of his extended family, including 20 grandchildren.
"I can go on like this for at least 10 more years," said Nanu Ram Jogi, proudly pointing at the baby girl his 50-year-old wife Saburi delivered in August in their modest home. But his wife Saburi, who is his fourth, says she has had enough after delivering 13 children.
Jogi, who belongs to the hardy Banjara nomadic tribe, said earlier this week that he had his first child in 1943 and now has nine daughters and 12 sons."He was full of get-up-and-go then and it's the same even now," said friend Mange Lal by telephone from Paanchimli, 350 kilometres (210 miles) from Jodhpur, the sparsely populated state's weathiest city.
Jogi attributes his vitality to "the miracle of camel milk" and a carnivorous diet of lamb, rabbit and chicken. He has had to sell patches of farmland to take care of his ever-expanding family but now a number of his children have become bread-winners.