Embattled US Senetor Craig to announce future plans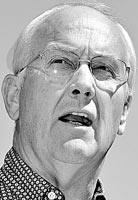 U.S. Senator Larry Craig speaks at a news conference in Boise, Idaho about his June arrest by police in a Minneapolis airport men's toilet . Reuters
WASHINGTON, Saturday (Reuters) - US Sen. Larry Craig is scheduled to announce yesterday his future political plans amid pressure from fellow Republicans that he resign because of his involvement in a sex scandal, a spokesman said. Craig spokesman Dan Whiting said yesterday the senator would make the announcement today in Boise, Idaho, Craig's home state. Whiting said no other details were available.
Earlier this month, Craig, a veteran Senate Republican, pleaded guilty to disorderly conduct after a June 11 arrest in the men's restroom of the Minneapolis-St. Paul airport. Police were targeting the toilet because of problems with lewd behavior there. In his last public appearance on Tuesday, Craig denied having done anything wrong. He also declared that he was not a homosexual and said he had admitted guilt without consulting a lawyer and only "in the hope of making it (the case) go away."But since then, many of Craig's fellow Republicans have called on him to resign or have criticized his behavior. The few statements of support have been tepid.
Senate Republican leader Mitch McConnell of Kentucky called Craig's conduct unforgivable in a newspaper interview in Kentucky. But he would not say whether Craig should resign. Craig's term in the Senate expires in January 2009. If he resigns earlier, Idaho's Republican governor is expected to appoint a Republican to serve out Craig's term. The result would be no change in the balance of power in the Senate, which is controlled by Democrats 51-49.
Craig served in the U.S. House of Representatives from 1981 to 1990, when he was elected to the Senate. Craig, a conservative, has voted against measures to expand homosexual rights.