Musharraf's allies question deal with Bhutto
ISLAMABAD, Aug 31 (Reuters) - Allies of Pakistan's President Pervez Musharraf have raised objections to a power-sharing deal he is negotiating with former Prime Minister Benazir Bhutto, casting fresh doubt on the future of the embattled president. With his term coming to an end and his popularity plummeting, army chief Musharraf is trying to shore up his position as he prepares to seek election for another term by the national and provincial assemblies.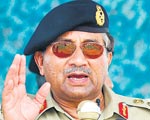 Musharraf: Will he quit as Army chief?
He has turned to Bhutto for help -- her popular Pakistan People's Party would broaden his base of support -- and has been negotiating a pact that is expected to see him quit as army chief and Bhutto become prime minister. But many members of Musharraf's ruling Pakistan Muslim League (PML) are alarmed at the prospect of their old rival Bhutto returning from eight years of exile to take power from them.
PML President Chaudhry Shujaat Hussain said he had conveyed his reservations about parts of the proposed deal to Musharraf."We told him that there are certain things which are harmful for the country and the nation and they should be asked to review them," Hussain told Reuters on Friday, referring to Bhutto and her party and some of the demands they have been making.Bhutto, who has been prime minister twice, wants the lifting of a ban on a person serving a third term. She also wants the president stripped of the power to dismiss governments.
But Hussain said his party opposed those demands. Bhutto has insisted an agreement would hinge on Musharraf stepping down as chief of the army, which has ruled for more than half Pakistan's history since independence in 1947.