Diana: Let it end here
LONDON, Saturday (AFP) - Britain reflected today on the memorial service marking 10 years since the death of Diana, Princess of Wales, and its calls for her to be allowed to rest in peace at last."Let it end here," said the Bishop of London Richard Chartres, in a plea for the wrangling over her tragic death in a Paris car crash at the age of 36 to finally come to a halt.
"Let this service mark the point at which we let her rest in peace and dwell on her memory with thanksgiving and compassion," Chartres said in Friday's service in words that seemed to strike a chord. Newspapers generally agreed with the bishop's sentiments, an attempt to draw a line under the episode in 1997 which sent a thunderbolt through British society, not to mention the royal family.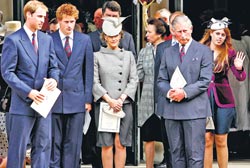 Britain's Princess Beatrice (R) waves to Queen Elizabeth as she stands with (L-R) Prince William, Prince Harry, Sophie Wessex, Princess Anne and Prince Charles after the Service of Thanksgiving for the Life of Diana at the Guards' Chapel at Wellington Barracks in London August 31, 2007. Hundreds of mourners gathered in Paris and London on Friday to mark the tenth anniversary of the death of Princess Diana, an object of enduring fascination around the world. REUTERS/AFP
The press also had high praise for Diana's son Prince Harry as it reflected on his maturity. The young army officer made a touching speech about her, a decade on from being the heartbroken 12-year-old boy burdened with the awful task of walking behind his mother's coffin as the world watched on. The memorial service, involving 500 guests at the Guards Chapel in central London, was organised by Harry, 22, and his elder brother Prince William, 25, exactly 10 years to the day since their mother died.
"It is not an exaggeration to say that the service... will have healed decade-old wounds," said The Daily Telegraph in its editorial.
The Daily Mail said: "It is time to let go," while The Sun said "a loud 'Amen'" to Chartres' plea. Both that tabloid and the Daily Express praised Harry as a "fine young man"who was a living tribute to Diana's qualities as a mother. In his heartfelt address, Harry voiced the loss he and his brother still feel as he called Diana "the best mother in the world."
The service was attended by their father Prince Charles, Queen Elizabeth II, Prime Minister Gordon Brown and Diana's two sisters and brother, plus her friends like pop star Sir Elton John. It was the main event to commemorate the anniversary, although a crowd of her supporters also gathered outside London's Kensington Palace, her former home, to pay their own tribute. Harry said his mother would "always be remembered for her amazing public work."
He concluded his speech by saying: "She made us and so many other people happy -- may this be the way that she is remembered." It was another attempt to put a stop to the swirl of conspiracy theories, focus on her death and wrangling over her legacy. Members of the public were not admitted, but hundreds gathered outside the chapel to listen to the service through loudspeakers. Harry's address earned applause and reduced many of them to tears.
William read a Bible passage, while Diana's sister Lady Sarah McCorquodale quoted from a poem. Conspicuous by their absence were Charles's second wife Camilla, Duchess of Cornwall -- described by Diana as the third person in her marriage after a long-term affair with Charles -- and Mohamed Al Fayed, father of the princess's boyfriend Dodi Fayed who also died in the crash.
Camilla pulled out, saying she did not want to distract from the proper purpose of the occasion, while Al Fayed, who insists the couple were killed in an establishment plot concocted by senior royals, was not invited. The Egyptian tycoon hosted a two-minute silence at his upmarket London department store Harrods, attended by about 100 people.
Last year, a report from Lord John Stevens, former head of London's Metropolitan Police, ruled out any conspiracy and said that the crash, which also killed the car's driver Henri Paul, was a "tragic accident".
Prince Harry's heartfelt address
LONDON, Saturday (AFP) - Here is the text of Prince Harry's speech at the memorial service in London marking the 10th anniversary Friday of the death of his mother Diana, princess of Wales.
"William and I can separate life into two parts. There were those years when we were blessed with the physical presence beside us of both our mother and father.
"And then there are the 10 years since our mother's death. When she was alive we completely took for granted her unrivalled love of life, laughter, fun and folly. She was our guardian, friend and protector.
"She never once allowed her unfaltering love for us to go unspoken or undemonstrated.
"She will always be remembered for her amazing public work. But behind the media glare, to us, just two loving children, she was quite simply the best mother in the world. We would say that, wouldn't we? But we miss her.
"She kissed us last thing at night. Her beaming smile greeted us from school. She laughed hysterically and uncontrollably when sharing something silly she might have said or done that day. She encouraged us when we were nervous or unsure.
"She -- like our father -- was determined to provide us with a stable and secure childhood.
"To lose a parent so suddenly at such a young age -- as others have experienced -- is indescribably shocking and sad. It was an event which changed our lives forever, as it must have done for everyone who lost someone that night.
"But what is far more important to us now, and into the future, is that we remember our mother as she would have wished to be remembered -- as she was: fun-loving, generous, down-to-earth, entirely genuine.
"We both think of her every day. "We speak about her and laugh together at all the memories. Put simply, she made us, and so many other people, happy. May this be the way that she is remembered."