Valuable award for Ranliya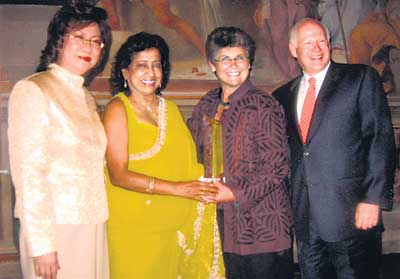 The award being received by Sita Hapuarachchi, Chairman Ranliya Group from Janet E. Goprve, Chairman MMG at the awards ceremony in Italy
Ranliya Garment Industries was recently awarded the 5-Star Supplier award by the Macy's Merchandising Group (MMG) Inc at Pitti Palace, Florence, Italy, the company said.
MMG is the sourcing arm of R.H. Macy's, which has about 850 retail stores in 45 states within the USA and in Guam and Puerto Rico.
The 5–Star Supplier award is given to their suppliers who have contributed to "an excellent partnership on sourcing and manufacturing and their continued commitment to International Quality Standards," the company press release added.
An MMG spokesperson noted, "We have steadily grown with Ranliya in areas of youth wear.
Their competitive pricing, huge production capacities and excellent partnership with MMG has secured a placement volume of 12 million in year 2006, which is a 500% growth compared to year 2005." Ranliya manufactures and exports children's garments to leading brands in the USA and Europe, namely Macy's, Tommy Hilfiger, Gymboree, Walt Disney, GAP, and Oshkosh among others.
The company has six manufacturing facilities employing 6000 workers and also generates 4000 indirect employment in hand embroidery work done outside centres. (LP)