Winning friends and charting a future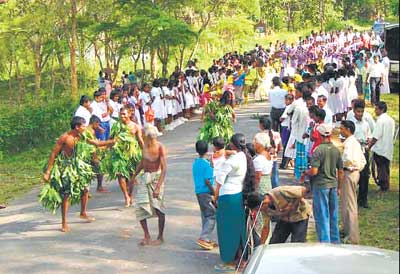 Jubilation in the village when the project was completed
It was a television news programme that provided the spark for a winning formula that led the Coca Cola team from Sri Lanka to triumph over their colleageus in other parts of the world.
The win was not the only thing they gained – it was more. "There is a whole new world outside Colombo," said Ravi Jayawardena, Head of Sales, Coca-Cola, who along with his colleagues found poverty and the deprivation an eye opener. The fact that children at the poverty stricken village – the centre of their attention for several months - were desprived of the basics that middle class families in Colombo took for granted like switching on a light or having water on tap, was a moving experience.
"It's something that we won't forget easily," interjected Nalinda Jayamanne, Regional Manager Coca-Cola Sri Lanka, and project manager of the winning team formula, during a recent discussion between The Sunday Times FT and the Coke match-winning team.
Basil Gadzios, Country Manager of Coca-Cola Sri Lanka, a bubbly personality allowed his team to do the talking but agreed – with all around the table – that the project could lead to greater things. "Maybe we should get together with like-minded staff in other companies and work together towards making a difference in poor villages across Sri Lanka."
He said he was extremely proud of his Sales Force who have "truly lived the company values which we hold dear to our hearts."
With this new learning experience, some guidance from others and a vision to help others, the team wants to work with others and hopefully form a network of sustained help for people in need.
The Coca-Cola Sri Lanka Sales Team, first became winners of the company's 'I am the Values' 2007 Challenge, Sri Lanka through their entry, which was an initiative towards sustainable education which benefited the indigenous community of Ratugala.
After winning the local leg of the competition, organised by Coca-Cola SABCO in all its bottling plants in Africa and Sri Lanka, the Sri Lankan team went on to win the international competition, judged at the company's head quarters in Port Elizabeth, South Africa.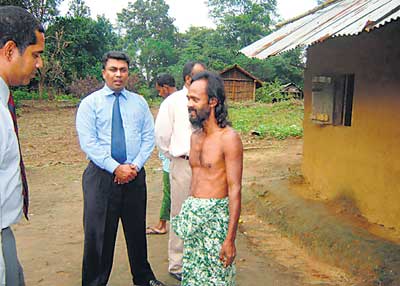 Discussing the project
The winning project involved constructing a school building and teachers quarters for the Ratugala indigenous community comprising of 65 families living in the bordering Bibile, 374 km from Colombo.
The objective was also aimed at sending these children to school by giving all the children breakfast at the new school. Among the rules of the competition the Sales Team had to adhere to was that the initiative be sustainable, self-funded and a team effort.
Jayamanne, who watched the inspiring TV news programme and alerted his colleagues, said the Sales Team was immediately committed to the cause. The project cost of Rs. 1.5 million was self-generated through a series of activities, which included musical shows, car washes, and the screening of key World Cup Cricket matches.
Jayawardena said there were many challenges in the project as the village is situated in thick jungle. "However we were able to complete construction two weeks ahead of the three-month deadline. I feel that altogether this project taught us very important life lessons and pushed our limits like no other, as we had to work over holidays and weekends, while seeking shelter in the jungle during the construction phase of the project."
On the longer term the team plans to further develop the community's agricultural capabilities by repairing a nearby culvert, thereby enhancing their main source of income – plus network with like- minded staff in other companies on a combined support structure for Sri Lanka's underprivileged people. (Feizal)