Back to Business project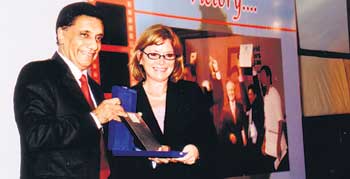 Picture shows Ms. Rebecca Cohn, Mission Director of USAID receiving the award as a 'Funding Partner' of the Back to Business Project from FCCISL President Nawaz Rajabdeen.
The 'Back to Business' Project of the Federation of Chambers of Commerce and Industry of Sri Lanka (FCCISL) recently won the World Award for Best Unconventional Project for SMES of the World Chambers' Competition 2007.
FCCISL said it was the chamber in Sri Lanka tha\t won a prestigious World Award. According to World Chambers Federation, this honour gives international identification to the most cutting edge projects launched by local, regional, and international chambers of commerce around the world.
Recently the FCCISL held a 'Back to Business Project Stakeholder Felicitation Ceremony' to recognize and appreciate its financial, strategic, implementing and programme partners, the electronic media sponsor and all staff of the project.