Unwritten laws of 'Natural Governance'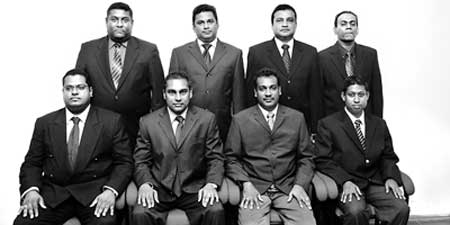 The Sunday Times Business Club recently elected its new Executive Committee for the year 2007-08 . They are (seen here not in order) - Nishan K Silva – President, Chaturanga Perera (Immediate Past President), Ajit de Soyza, Chanaka Perera, Dhammika Weerackody, Harsha Rajapakse, Madhawa Gunaratna and Sudath Ariyawansa.
'Governance' is a word that is very widely and cheaply used in public today. However, it is quite evident that most people do not understand what 'Good Governance' means and as a result have not taken this issue seriously. These views and much more were expressed by Rienzie Wijetilleke, a pioneer banker and business leader in Sri Lanka, when he addressed The Sunday Times Business Club as guest of honour at the monthly meeting of the club held two weeks ago.
It was pointed out that governance is a set of values that everyone of us as individuals have to live by over a period of time and that it is not something which is imposed on any of us by law. There is a distinction between law and governance as laws are there only to prevent wrongdoings. It is also sad to note that laws today are being broken more than being adhered to which can be primarily attributed to lack of governance in its pure form.
Wijetilleke also pointed out that governance is a subject that is closely related to management today and is a part of management strategy, as it comes into play in every role as a manager. At every level whatever it may be, governance is expected to be adhered to as even in our homes, good governance is vital. Having being in the banking industry for almost 47 years and currently the Chairman of Hatton National Bank, Wijetilleke said, "My skills development has not been through management books". There are a lot of things that one can learn as skills from management. "Management and governance are things which have been coming down over the years, although these are new terms very widely used today" he said, making it clear to the audience that in other terms, these are ethics and norms that need to be followed, in respect for each other. Giving an insight into the developments that took place in the 1970s with regard to employer and employee relations which gave rise to various management styles and governance issues, Wijetilleke took the example of his own organization, where the organization is not differentiated between employer and employee. "We call all ourselves as PARTNERS" he said, adding further that "We are all working towards one cause, which is the good of the organization".
Today people talk about team work and team building, no doubt because all work towards a common objective.
"The necessity to have a manager or a CEO for an organization is required, but today we need to look at ourselves as partners for the well being of the organization that we work for and most importantly the nation as a whole," said Wijetilleke, who continues to be humble and helpful despite having reached the pinnacle of success in the banking industry.
"We should not forget the fact that as a matter of principle, our personal interests are always there and all of us have the right to give it priority. Young executives today need to make note of this in terms of career development, etc… in an organization. As young leaders, we also need to see as to what we can do as individuals for the industries that our organizations are involved in. For certainly, if the industry grows, so will the opportunities grow for the organization to flourish," he said.
At every level in organization, young executives today need to develop and have management skills, Wijetilleke advised the young business leaders in the audience. One need not be in charge of a department, a manager, etc… to obtain management skills. If one is in an occupation to influence or lead a team of people around you, you become a leader as they would look to you for guidance, counseling and leadership. Given this all of us are leaders today in some form. However it needs to be noted that although we have the opportunity to be leaders, we simply cannot keep 'ordering' people around which was a thing done in the days gone by. The opportunity for us to become leaders is an opportunity for us to develop our skills in management and we are certainly not expected to do the 'wrong' things, which highlight the need for good governance.
It was clearly understood by the audience that while many books, courses and degree programmes exist on management skills and best practices, we will not be able to become good managers, if we do not start practicing same. In this context, Wijetilleke ponted out four important areas of management which are of utmost importance to us today. Amongst these, the most important area is managing ourselves and relationships efficiently as in the alternative, we will not be in a position to manage and lead others. Giving an example, he said "You might have the most difficult boss that you can ever imagine of, but you need to manage that person". It is only once we have the skills to do this, that all of us will be successful in whatever occupation that we have chosen to be in.
Managing risks are equally important whether at home or in office and it is important that we assess what we are required to do, especially in an office environment. Sadly, most people today keep running around in circles trying to resolve issues, without looking at the core issue of the problem or comprehending same. Incidentally, the same thing can be applied to the state of affairs in the Sri Lanka today where a lot of confusion is created as authorities do not address or comprehend the core issue of the problem, thereby not effectively managing risks. "Basically why we mess up ourselves, why we are unhappy, why we are not producing results in our work is since we are not simply understanding the situation and we are not addressing or managing issues in a proper manner," he said pointing out the importance of managing risks.
Technology and English are other key areas which need to be managed very closely by as individuals in today's context. There are thousands of children languishing in Sri Lanka today who are very skilled and knowledgeable; but their progress is limited and most often hampered, due to the lack of knowledge in English. As an example, a young lad from a village will score 80 percent of marks on general intelligence and the balance 20 percent on English, while a lad from Colombo will score 40 percent on general intelligence and the balance on English. Sadly in most instances, the lad from Colombo will be chosen over the skilled and intelligent lad from the village, which is an example of how bad Sri Lanka's policies have been. In the same context, managing technology is also of utmost importance today, whatever profession we are in today.
"The technology revolution has taken us quite shockingly," he said, further adding that changes which have occurred in the field of technology within the last 50 years is nothing and insignificant, compared to what will take place in the next five years. Young leaders and business executives do not need to be disheartened given the circumstances surrounding us today as these are issues due to lack of good and natural governance. We also have a duty to "mould" the younger generation with Traditions, Values and Wisdom which are also key components of good governance that we must never ignore. As young people of today at whatever level we may be, we need to redefine our potential, our strengths and most importantly believe in ourselves as someday, things will turn for the good. These are unwritten laws which we must learn and practise, as it is only then that we will be able to prosper as individuals, society and most importantly as a nation, he said.
(The writer is a member of
The Sunday Times Business Club)