Building a new empire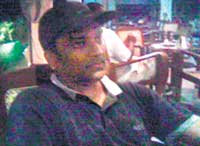 Ashok Pathirage
Ashok Pathirage, who burst into Sri Lanka's corporate scene by pioneering Softlogic, and took over Asha Central Hospital this week, has come a long way since the 1990's by taking on the likes of business tycoon Harry Jayawardena and successfully beating him at his own game.
"I believe that we have the capacity to do what we have set out to do and I am here to make some noise," the 43-year-old business tycoon declared in a telephone interview with The Sunday Times FT, fresh after sealing his latest deal.
The Chairman and Managing Director of Softlogic who loves Sri Lankan rice and curry, has added 15 companies in the past 16 years and consolidated them under Softlogic Holdings (Pvt) Ltd. He has employed over 700 people within its offices in Sri Lanka, Singapore, Pakistan and Australia. Pathirage, an old Anandian, is now eying acquisitions in either telecommunications, banking or in the financial services industry.
In 1991 he quit his first job at John Keells Holdings (JKH) after nine years and with a capital of Rs. 1 million and eight employees started Softlogic aimed at catering to local software requirements. "Now the Softlogic Group is a Rs.7 billion turnover entity without taking the Asiri Hospitals into account," he said.
Pathirage, a cricketer during his school days has now switched to the rich man's sport - golf, saying his passion for software started with his job at JKH where he joined as a trainee at the company's Management Information Systems (MIS) department way back in 1983. "At the time I saw a lot of potential for software development and there was a need for a company such as ours in the country, especially when software was catching up. We approached the markets in a focused manner. In the first year we had about Rs.6 million turnover," he said, adding that Softlogic really took off when it got the DELL computer distributing agency 12 years ago.
In 1993 Pathirage, originally from Galle, passed another milestone when he tied the knot and settled down in Battaramulla. The couple have a 13 year old son.
In 1995 Softlogic Computers (Pvt) Ltd, specialising in marketing and supporting a variety of networking and power protection products through a locally established dealer channel was set-up. Softlogic International was started as an authorised partner of Dialog GSM to provide mobil connections. "We set up ABACUS International Lanka in 1998 as a joint venture with Abacus International Ltd which is Asia Pacific's largest computer reservations system," he said adding that he moved on to set up lifestyles Stores with contemporary furniture on offer."Softlogic Solar (Pvt) Ltd was started in 2002 and the latest outfit is Softlogic Properties under the Softlogic Holdings umbrella," he reminisced.
Pathirage, who takes time off from his busy schedule to holiday twice a year, said that the company's initiation to venture into furniture started when he was holidaying in Bangkok. "I came across 'knockdown furniture' at a supermarket. By this time a lot of apartment complexes were mushrooming and I saw a big need for 'functional furniture' in Sri Lanka. We brought this new concept in furniture to the country, where chairs, tables, drawers and any other furniture item could be fixed within a short time. The company managed to create a brand for Lifestyle. Now we have progressed from a furniture shop to a home store," he said.

Softlogic started expanding eight years ago with Gerrys Softlogic (Pvt) Ltd, a joint venture with Gerrys Holdings (Pvt) Ltd in Pakistan where the company is involved in marketing and selling of DELL and Cisco products, while having the largest DELL distributorship. Softlogic Australia is located in Melbourne, Australia and was established in 2000. It is responsible for promoting a range of e-business application developments and professional services such as business analysis, Internet, Intranet and extranet. In 2002 he set up a trading company in Singapore.
When asked why he wanted to acquire companies, Pathirage said, "What we had experienced up to last year was an organic growth. We want to grow faster and bigger in a short period of time. We are looking for acquisitions and are aggressively focused in this area."
Uniwalkers Private Ltd, another big acquisition for Pathirage, is the agents for Daihatsu and Panasonic and it was Uniwalkers that set the mode for the company to go into an acquisition drive. Pathirage said Uniwalker's business grew by 300 percent last year after the acquisition.
"It was a loss making company, but we have turned it around with Rs. 1 billion investment," he added.
The next acquisition came when he bought five percent of Asiri Group and was offered two board seats in the two companies' under the group, Asiri Hospitals (Pvt) Ltd and Asiri Medical Services Ltd this year, beating Sri Lanka's best-known take over giant Harry Jayawardena in the process.