Teaser ads for 'Heart FM'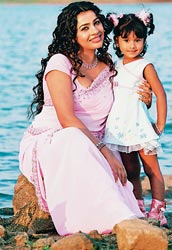 For the first time in the history of film publicity campaigns in Sri Lanka 'Teaser Ad' is used for the pre-publicity for Senesh Bandara Dissanayake's 'Heart FM'.
The second directorial venture of 'Wassane Sihinaya' fame director launched its publicity campaign with teaser ads for his film, scheduled to be released from next January 23.
'Teaser Ad' is a brief advertisement designed to tease the public by offering only bits of information without revealing either the sponsor of the ad or the product being advertised. Teaser ads are the frontrunners of an advertising campaign, and their purpose is to arouse curiosity and get attention for the campaign that follows. Teaser ads are often used in the introduction of a major motion picture.
The advertisement campaign was launched with the release of Giriraj Kaushalya's 'Sikuru Hathe' on August 16, in EAP circuit cinemas through out the country. Scripted and directed by Senesh Bandara 'Heart FM' stars Kanchana Mendis, Tony Ranasinghe, Gayan Wickrematilake, Sachini Ayendra and Mahendra Perera.