Thushara creates controversy with 'Prabhakaran'
'Prabhakaran', the maiden film of young filmmaker, Thushara Peiris has already created controversy. Starting as a technician at a video production house, Thushara is studying filmmaking in depth in Rome and his maiden film comes even before he has finished his education. Having focused on the war, the burning problem in the country as the theme for his first film Thushara talked at length about his film, how he got the idea and the film industry in Sri Lanka in general.
TV Times: What is the background for 'Prabhakaran'?
Thushara: At the end of the first stage of my film course at Cine Chithe in Rome from where I got a scholarship, the course member comprising 85 from different parts of the world were asked to write a five minutes script for a documentary film. And mine was selected as the first and it was this script I later developed into a 90 minute feature film adding more cinematic ingredients.
TVT: What appealed you to focus on war for your first film?
Thushara: We know that there is a war in our country. But how many of us know the real side of this war. Who wants to have the war? Who really gains from war? And not only in Sri Lanka, we see similar civil wars in most of the third world countries. And there is a close connection between globalisation and terrorism. My idea was to make a film that is relevant to all these countries.
TVT: Where did the idea originate?
Thushara: Rome, where I have been studying filmmaking is a safe haven for many who had fled terrorist organisations. Even Bin Laden can live there as long as you don't get involved in any unlawful activity. I met youthful, LTTE suicide cadres who had fled Sri Lanka abandoning their mission. One youth I met was a suicide cadre sent to Colombo with Rs. 700,000 to wait until he receives his instructions. But he had fled to Italy in a boat with the money he was given. These lives influenced me to do 'Prabhakaran'. Anyway this is not a political film made to fulfil political agendas. This is a film on terrorism.
TVT: What was your vision in 'Prabhakaran'?
Thushara: I wanted to look at terrorism from the point of view of a democratic government. My main idea was to convey that we can solve our problem by ourselves. We can decide whether we need the war or not. After talking to many of the LTTE cadres who had fled the LTTE I realised that the lower rank in the LTTE does not want war.
Anyway my film is not going to serve any racist viewpoint or extreme ideologies. And at the same time I will not betray my country or the people. I will never forget I have benefited from the free education and from the tax payers of this country. So I can't betray them either.
TVT: Your start was television and teledramas?
Thusara: Yes I did a number of teledramas and worked as a director, producer and script writer. But now I have realised that teledrama is not a medium of art to discuss serious issues and I feel sorry about myself for some of the work I did for the television. They are only soap operas which is good for housewives to waste their time. If we want to handle serious art either we have to make a stage play or a film.
TVT: Almost all the films made around the Sri Lankan war became highly controversial and subjected to attack?
Thusthara: I know filmmaking is a challenge specially in a country like ours. To be frank I have a fear whether I will get a theatre to show my film to the people in this country. But as amateur filmmakers we have to be prepared to face these challenges. While respecting all our traditions and culture, there should be a free environment for filmmakers to make films without restrictions.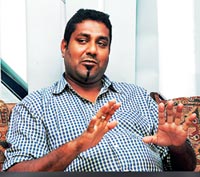 Director Thushara Peiris
People like Ashoka Handagama and Prasanna Vithanage are people who try to get away from this islanders ideology. They are in their own way trying to uplift Sri Lankan cinema. Now we have to see that whether the same people who attack them would come forward to protect me for making a film that discusses suicide killers, child soldiers and other terrorist activities. But so far they have not inquired about. I doubt about genuiness of their patriotism.
TVT: Having made a film on war, do you think the film industry of a country which has had nearly three decades war has played its role properly?
Thushara: Our National Film Corporation is older than the war in this country. But they had failed to do a single film on the war. Having lost the Vietnam war, America is still making films on the Vietnam war.
And the LTTE with its limited resources and with all the restrictions have done six films on the war and even now they are making a film on the war. But unfortunately we have not made a single film that would discuss the issue.