Shaped by the sounds of Sinhala
Tissa Abeysekara talks of his love affair with his mother tongue, his growing up in split social contexts and his latest work ...............!
Launched on August 11, coinciding with the 107th birth anniversary of his father, Roots, Reflections and Reminiscences by Dr. Tissa Abeysekara is first a son's tribute to his parents for the cultural legacy he inherited through their disparate yet diverse cultural contexts, and second, an artist's expression of his own preoccupations with the cultural climate of his nation.
'To my father who taught me to love the English Language and to my mother who taught me to love life itself', runs the dedication, and already a story is told; the story of a boy and a socio cultural context that would produce one day an artist and a very particular personal style of expression. In a post-launch chat with the writer/ filmmaker, Dr. Abeysekara, who was recently conferred with an honorary doctorate by the University of Colombo, reminiscences for a moment of his own roots. He talks of growing up as a boy – an only child – in an almost exclusively anglicised, affluent background; the son of an anglophile father who spoke, thought, read and wrote in English, and by being stronger in personality and thus the more dominant parent, English became the language through which Dr. Abeysekara was initiated into the world of letters. And yet, the language that he dreamed in, the language of the imagination was the language that whispered stories in his ear and sang him to sleep. "My mother was of country roots," says Dr. Abeysekara, "And she was a person steeped in folklore and folk poetry and I think my imagination opened out not so much by the English texts (although those were part of a schedule), but through the sounds of Sinhala."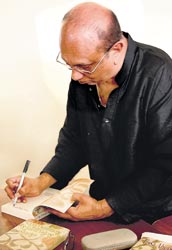 At the book launch last Saturday
With his mother he shared a more free, open relationship, and listening to her sing or narrate from classical Sinhala texts made him feel warm about the sound of that language. "It was a kind of aural experience. And I fell in love with that language. I touch those rhythms when I write." For him, English sings in a totally different voice. However, even when writing creatively in English, he reaches out for the cadences, rhythms and sound patterns of his 'mother's tongue' – for that different rhythm, different key.
The split social contexts were my advantage, says the writer, who has through a career of expression, been able to fuse these disparate cultural inheritances, and through his work carve a niche for himself in the cultural landscape of the country. His "breakthrough as an English writer" came with his Gratiaen Award-winning novella Bringing Tony Home. When he says 'English writer' he means a creative writer writing in English, possessing the ability to think from within the language, where the language is a part of your consciousness and there is no gap between language and its expression. "The first two decades of my professional life I wrote in Sinhala. And it took me 40 years before I had the feeling that I could voice my innermost feelings in English – it came suddenly." That was his breakthrough.
Most of the articles in the recently launched collection were written after this 'breakthrough' when, as he points out, he had the confidence and faith in himself to write – to express – in English; his skill working much like a fine-tuned piano. The essays are analytical critical pieces of interest to the writer, written over the last 15 years and published almost exclusively in The Sunday Island and the Ceylon Daily News. They are an expression of, and an attempt to capture a socio cultural and economic landscape of a country and the tensions and traumas that people live through individually or collectively.
The collection was born of a general consensus that together the work belonged to a common stock. In the world of the journalist, an article appears and then it is gone – and in that sense the experience is ephemeral. Laced together as a collection of essays, the work has longevity, validity as an extended cultural interrogation and a kind of artistic vision.
Not arranged in any chronological order, the work is grouped with a kind of thematic kinship in three sections – roots, reflections, reminiscences. In the first section – Roots – the articles try to trace, excavate, and lay bare our roots – cultural, social and historical. Reflections, born of roots, comprises more analytical pieces deconstructing and dissecting aspects of culture in a cerebral sense, where 'Roots' feels its way through territory – like an animal. "But I've tried not to be too cerebral," the writer holds, "and let the heart do most of the talking. Dipped in emotion, I feel a work communicates better."
In Reminiscences, Dr. Abeysekara surrenders to the act of 'remembering,' playing more on his own memory, setting it free to go to places and people that inspire.
In the 15-year evolution of this work, the obsessions and passions of a young boy have been refined and made more logical; preferences are definitive, cultural elements rationalised, feelings informed and artistic choices justified in a style that evokes the personal. Decidedly anti-academic by nature, Dr. Abeysekara writes with a tone of warmth – unmistakably personal. However, despite the evolution of the man, the artist and the work, Dr. Abeysekara still searches – meeting questions in his search, instead of answers. "My creative sensibilities," he asks, "Have they been conditioned by the circumstances of my personal life, or by credos political and cultural that I have studied. Where do I belong? What is my mother tongue? What is my inheritance? What is my home?"
His are the questions of the emerging post colonial artist, battling schizophrenic anxieties – and surviving. His home is the home of the "stray", the home built, the imaginary homeland of the mind. "I have taken great pains to locate myself in a particular milieu – a place of belonging – a place where memories pin me down…"
With that thought in mind I read through Roots. I was apprehensive, and unsure if the emotion in the tone was indulgent. But Roots brought with it connections – a collective memory of people and places, forgotten and remembered. From Sunil Santha's music as a cultural exercise to the locating of Sri Lankan writing and film, culture and identity to the poetics of Sigiriya verse and the myths of Utuwankande, introduced to Lester James Peries to Martin Wickremesingha to Punyakanthie Wijenaike to Yasmine Gooneratne and Michael Ondaatje – here were characters and moments in a performance of culture with a critical context voiced by a writer finding his way around his roots. This is his story.