Diverse talents
Imagine four random first year IT students from all corners of the country, competing for the first time in an international arena comprising 160 team applicants from over 70 countries and being selected as one of the top six entries worldwide! Now think for a moment that this was in fact true.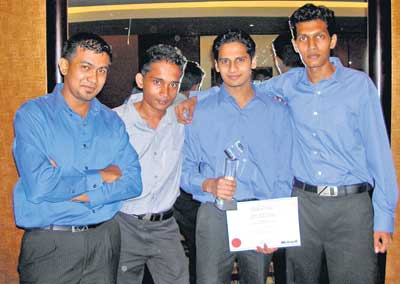 Pix by Berty Mendis
Team 'Tear' is made up of four first year Bachelor of Information and Communication Technology (BICT) students from the University of Colombo, School of Computing (UCSC). Team Leader – Jayanath Galahitigama (23), Music and Cameraman – Isura Sandaruwan (22), Director – Tharaka Jayasekara (22) and Editor – Ishara Diluksha Perera (21), did Sri Lanka proud at 'Imagine Cup 2007' – the world premeir student technology competition, held in Seoul, South Korea this month.
The idea initially took root, when four first year students of the UCSC attended the Annual Microsoft Imagine Cup presentation, usually meant to solicit good teams of undergraduates to compete at the 'Imagine Cup 2007', and discovered that apart from the usual software design category, there was also one for short films. At which point the four member team 'Creepasoids' was born. Having spread the word around their batch about this competition, four more batch mates of theirs (team 'Tear), decided to take up the challenge too. Although both local teams 'Tear' and 'Creepasoids' managed to get through the first round and get selected to the top 30 teams, only 'Tear' made it through to the worldwide final in Seoul. This is the first time teams from Sri Lanka competed in this particular category of the competition and is thus, quite an achievement that both teams made it to the top 30 teams and one made it right to the final, in their first ever time competing in such an event. It was even more commendable as some of the other participating teams even had their own production companies or were post grad students etc.,
Their story goes…
"None of us were a part of the same 'clique' as it were. We were all from the same batch, but were not from the same group of friends per se. I had a story idea in my head which I then transferred on to a story board. I was wondering if the story could be adapted into a short film under this year's theme 'Technology enables education for all'" said Tharaka. It was at this point that he met Jayanath, who fit the story to the theme/concept. After which, they found a musician in their batchmate Isura, who agreed to compose the music for the film. Last but not least they recruited the editing expertise of yet another one of their batch mates, Ishara. At long last, the four member team was born!
"It all happened quite fast, a matter of days actually. Everything was done in two days as we only had to submit the story board and the abstract (a statement summarizing the important points of a text) for the preliminary round. Once we got through to the next round, we had to actually shoot the contents of the story board and re-submit our entry in the form of a short film," explained Jayanath. Their short film titled Little Girl was quite a powerful 7½ minute tear jerker about a little girl from a impoverished background who gains admittance into school, much to the delight of her father who is then faced with the reality of not being able to afford her school books. "We mainly wanted to highlight the many children (especially of the third world) who don't have access to a decent education," added Jayanath. Having topped the second round jointly with the group 'Skyline' from Poland, their film was acclaimed by the judges, one of whom went to the extent of saying that the film had virtually brought tears to her eyes. The judging criteria was based on originality, concept, message, screenplay, pace, relevance to target audience and even audience reaction (in the final round.)
"It was 2 p.m. on August 5, when we received our topic 'Imagine any product or service which enables better education for all' and were instructed to submit a complete product, no longer than 15 minutes and no more than 200 MB's, 36 hours from then. We had to hand in our basic plan within the first three hours of receiving the topic and leaving us with about 33 hours to shoot, edit and compose and add the music," added Jayanath. Each of the teams were given a camcorder, vehicle, guide, computer and plenty of refreshments.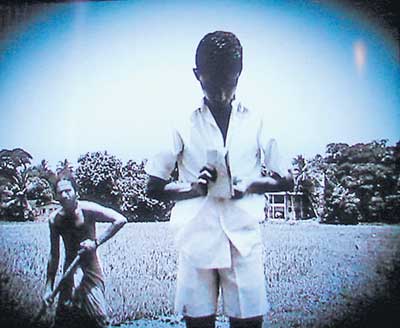 Scenes from the film
"Our main focus when making the short film 'Wish', was on knowledge and the primary means via which we attain it; formal education, general experience and entertainment. We wanted to depict how future education should cover all these three bases and be easily accessible to everyone," he elaborated.
This film too, shows an underprivileged child who's one wish is to get an education (which they show abstractly by using an 'imagine box' as they were not permitted to show any type of modern technological device such as computers, i-pods, phones etc.) The main objective of the film being that future innovators must ensure that education includes children like this as well, he added.
"As we could only shoot till about six each day, I made use of the night hours to compose the music according to the scenes we had shot. We were the only team to lug a keyboard with us all the way," said Isura laughing. "We mostly used western sounding music but also used eastern music for the credits so as to give it a local flavour," he added.
"Once all the visuals were captured, I first did a rough edit so Isura could get an idea of the film so he could start work on the music and then we concentrated on perfecting the exact sequence of scenes," said Ishara, who incidentally displayed his acting prowess too, in the making of the first film, where he played the part of the father when he a was young boy. "He's become quite famous around campus after his performance in our film," said Jayanath teasingly, referring to the scene where Ishara had to remove his shirt.
"We finally wound up in fourth place as, even though we scored on originality and concept etc., the judges felt that we could have improved in our execution as they felt that there were mulitple messages being conveyed. However, we were told that it had been quite a close fight between the second, third and fourth places, and considering it was our first time, we were quite happy," said Jayanath proudly. "As we didn't have much experience etc., we thought it would be quite a challenge, but I think we handled it quite well," he added.
"There was a real festive atmosphere there (before and after competition hours of course)" said Dr. Ruvan Weerasinghe – Director of the UCSC, adding, "there were games and singing and even a one day cultural trip organised; it was quite an experience for us all." They were taken along the river Han which runs right through the middle of Seoul and were amazed by the number of bridges they came across on their way. They were also taken to the Seoul Tower and the museum, he added.
"There are a few people without whose guidance and support we couldn't have achieved anything. One being, the team's mentor Rajith Leonard Joseph, an old friend from school who's now a producer, who was our guide, technical supporter, counsellor, right throughout our venture and Ranil, who helped Isura out a lot with with music. Prabath, Uditha and Sandaruwan aiyas from the Advanced Digital Media Technology Centre of the UCSC, were also an immense asset to us, as they imparted with a lot of practical know-how on how to use a camera and how best to maximise the quality of the end product," said Jayanath. 'Tear' would also like to thank Wellington Perera of Microsoft Sri Lanka and H.E. Sirisena – the Working Director and D.H. Abesundara – Assistant General Manager (Marketing) of the National Lotteries Board of Sri Lanka for all their support.
"We, at the University are very proud of both our teams 'Tear' and 'Creepasoids' for representing Sri Lanka internationally and showing how diverse our talents are.
We must therefore, encourage local competition so as to raise the bar and develop standards here, so that we can be better equipped to compete on an international arena," added Dr. Weerasinghe.