Kandy show why they are champs
Kandy SC - 40 CR&FC - 20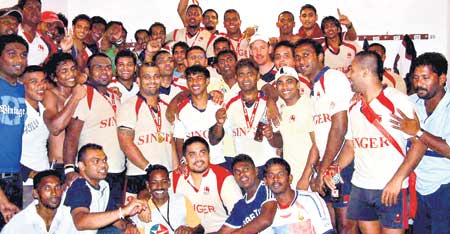 The celebrating Kandy players. Pic by Shane Senevirathna
Kandy SC showed that they were every inch a champion side by whipping the CR&FC by 40 points (4 goals, 3 penalties, a drop goal) to 20 (1 goal, 2 tries, 1 penalty) in a hotly contested Caltex 'A' Division return rugby game at Nittawela yesterday.
Kandy SC had already won the league title after they squeezed past the CH&FC last week. CR, who are now the second placed team in the league was expected to give the Kandy side a red hot time. CR showed that they were capable of toppling Kandy SC, even though a win for the Red Shirts would not have changed Kandy SC's position at the top of the league table.
The teams crossed over with the scores being deadlocked at 10 all. Later the scores were again locked at 20 each. Then Kandy sailed across and made sure that their champion status in front of their home crowd will not diminish as they ran up a 40-20 lead at the close of the game.
It must be said that CR did not hand over the game to them. They tried their best to give a torrid time to their opponents but Kandy were streets ahead with their star players having a field day.
It was really the icing on the cake for Kandy SC who had an exceptional season this year.
CR really fell apart with simple errors.
Wekadapola's early try (goaled by Sendil Kumar - was crossed out by prop Kishore Jehan's effort to which Weerakkody added the extra points. A penalty apiece made it 10 all.
Centre Lasintha de Costa scored twice for CR in the second half. Kandy ran riot as they capitalized on a CR defence that had lost its spark. Jayasinghe and Pradeep Liyanage shared three tries while Weerakkody converted two penalties and put over his, now expected drop goal.
Referee: Orville Fernando