Taking care while giving care
Support for caregivers
The National Stroke Association of Sri Lanka -2682630; Sahanaya – 2685960; The Chitra Lane School – 2582758; Lanka Alzheimer's Foundation – 2583488; Survivors Associated (a support group of caregivers of disabled people) – 2735408, 2738313; Lanka Plus (a support group for people with AIDS) – 4901692.
Millions will fall ill around the world this year; some born into it, others devastated by cancer, a crippling accident, diabetes, dementia or one of a hundred other diseases. Many will return with diagnoses that shake their families to the core - disabilities that will never go away, illnesses that require drastic and lasting lifestyle changes.
They now need a caregiver, someone who will bear them up and pull them through. But who takes care of the caregiver?
What the future entails
It all begins with acceptance, and more often than not, both a caregiver and the patient may take time to really absorb what the future entails. "The number one thing that makes it easy to play the role of care giving is acceptance of the diagnosis, or at least acceptance that the person has a problem," says Lorraine Tamitegama, of the Lanka Alzheimer's Foundation. "If you accept what's happening to your father, mother, husband or wife, then the role of care giving becomes easier." But accepting the illness is hard and scary – to think that it's not going to change, and to help the person who has the illness to accept it too.
It could be any chronic illness or disability - from juvenile diabetes to simple old age – but a primary caregiver soon realises that the restrictions placed on the sick person's life are the restrictions placed on their own. "Everything the caregivers do, whether they go to work, whether they see their friends, everything else becomes dependent on somebody else's need," says Dr. Keshini Soysa, an Associate Professor of Psychology at the Worcester State College in Massachusetts.
Understanding the disease
Caregivers agree that the more they understand the disease, the easier it is for them to cope. When a consistently gentle husband of 40 years suddenly turns violent because of an illness, you not only need a safety plan already in place, you also need the comfort of knowing that, in all probability, this is only a passing phase. "You must try to predict the context in which it can happen and have somebody else there," says Dr. Soysa, "you must know whom you're going to call."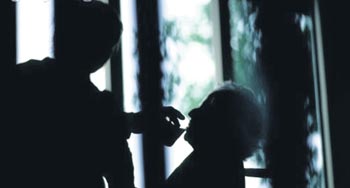 Even with understanding of a disease, staying calm and relaxed is inevitably easier said than done. "You see, it's not one day, or one week or even one month – it's going to be a continuous process," explains Dr. Usha P. Gunawardene, a psychiatrist at the Sahanaya Medical Centre. Being in for the long haul requires a rare sort of emotional stamina – a strength that can stand against mundane routine, irritability, frustration and even isolation and still make space for compassion and connection. It only gets harder when the illness is something like depression, where unlike in the case of a broken limb, there is nothing tangible to get a grip on. "To begin with, sometimes they won't even wake up in the morning. It's the role of the caregiver to say, get up putha, wash your face, have breakfast…like a record. Somebody always has to be there," explains Dr. Gunawardene.
Care giving is a process that must unfold on several levels if it is to succeed in its purpose – to enhance the quality of life for the patient. "Tender, loving care is the most important thing with a person with dementia," says Lorraine, and it is a statement that carries very well across the spectrum of illnesses. Patients respond better when they are consistently treated with genuine compassion. However, being emotionally available to their charges can be much more difficult for a caregiver than simply seeing to all their physical needs. "They'll do the trips to the doctors, the shuttling around, the feeding and the general caretaking, but it's difficult to be emotionally present because you're doing it all the time," says Dr. Soysa.
But often the weight of responsibility on a caregiver's shoulders manifests quite literally in neck, back, shoulder and even knee pain, reveals Dr. Lalith Wijayaratne, Consultant Rheumatologist and President of the National Stroke Association of Sri Lanka. "A stroke patient must be lifted, turned over, helped to sit up or lifted onto the wheelchair time and time again," he says. "When you're carrying a human being, unless it's done correctly, both parties can be injured."
Toll on both body and spirit
Describing patients who are diagnosed with everything from anxiety disorders and high blood pressure to chronic back pain, he says that the toll of long-term care giving can be high on both body and spirit.
It doesn't help that the relationship itself is simultaneously under siege. Be it between father and daughter, husband and wife or parent and child, the bonds between caregiver and recipient are often tested to the limit. "Because such relationships can be so intense those interactions maybe more hypersensitive to disagreement than regular relationships," says Dr. Soysa. "Of course you won't be doing this unless you care about each other, but because there is so much room for hurt and disagreement, it requires an extra degree of sensitivity to cope."
"Every relationship will have its own peculiar stresses but when relationships can't take the strain, burnout follows," she goes on.
"You simply can't do these things by yourself," says one longstanding caregiver, who wished to remain anonymous. She reveals that they had just crossed their 50th anniversary when her 73-year-old husband was diagnosed with vascular dementia and Alzheimer's. 63 years old herself, she found much support from family and friends.
Take time out
"You must be full of joy yourself; otherwise the task can become extremely onerous," says Tami Tamitegama, Founder of the Lanka Alzheimer's Foundation. And it's true that being able to dredge up a chuckle might be the only thing that can get you through another frustrating day. "Some days I would just call my cousin and say, 'so make me laugh'," remembers Anoja Rajapatirana, whose son Chandima was diagnosed with autism when he was four. Looking back she says, "When they give you that diagnosis they make it sound like a death sentence." Told by experts that her son would spend his adult life in an institution, that he would never be able to give or receive love, and even that there was no point attempting to communicate with him, Anoja rebelled against conventional wisdom, determined to do right by her son.
Today, Chandima is an extraordinary human being, a poet, essayist and advocate, who communicates with the help of an instrument called a light writer. At 33, he sometimes gets restless, trapped in what he considers a gilded cage. Anoja responds with the humour that one realises is characteristic of her – "at least it's gilded," she says.
Even though she is Chandima's primary caregiver, everyone in their family of five has always been glad to spend time with him. Sharing the responsibility with her husband and other children allowed Anoja to take the occasional weekend off to simply "recharge my batteries".
Short breaks and time spent out of one's daily routine can make the difference between a happy, energised caregiver and dispirited, drained one. But often a caregiver will hesitate to take time out. "Time spent apart makes them feel guilty," explains Dr. Soysa, and they may feel this even if the patient has not actually made that demand." The result is caregivers battle feelings of frustration and resentment – they feel used, isolated by their role and unappreciated. All of which make sharing primary care giving with other people whom the patient trusts and can be comfortable with, all the more important. Sharing the responsibility will reduce burnout, guilt, stress and isolation, says Dr. Soysa.
But occasionally, circumstances do not permit this and the caregiver must look for support in a different form. "Create a network of people to talk to that you can trust…because you're going to complain, and it's not that you want to abandon the person, but you just need to be able to whine a little about your own stress or have support to laugh about it," explains Dr. Soysa. "If you have to be present to support other people in a context where you don't have support, that's impossible in the long-term…that's more than one can expect from anyone who's human."
It is from the ranks of middle-aged women that caregivers are primarily drawn, explains Dr. Soysa, which is why women in their forties and fifties are often found to be taking care of their children, their spouse, elderly parents and in-laws, while running a home and holding down a job. "This is also the age in which you have very high depression among women and it is not because of the hormones. Most often, you'll find that it is because of the number of stresses women are juggling at that age," she says, adding that they simply don't have the time for friends.
Be innovative
"We have social supports that sustain us, that allow us to then sustain others. But sometimes we need to work on them. I don't need a psychologist to tell me I need friends, but the thing is, I might not have the time for them because I need to be with my mother or my child or at work. And so we let go of our friends but what we don't realise is that we can't survive in the long term unless we build this in right from the start," says Dr. Soysa. This can mean being innovative – having friends come over while you're cooking, or getting yourself a hands-free for a cell phone so that you can clean and chat with a friend at the same time. "You have to make those times that you spend with other people, and that's why it takes effort."
Those who cope best
Among the people he comes in contact with, Dr. Wijayaratne finds that those who cope best are often those who find something of interest with which to occupy themselves. One caregiver speaks of her love of gardening, and quiet hours spent nurturing her beautiful flowers; another of spending hours in a big bookstore, and following it up with coffee and a date with a friend. But for some caregivers, the best pastime is one that can be turned to profit.
Finances stretched to cover the bare necessities in cases where the primary breadwinner falls ill, must be drawn out even further to cover often prohibitively high medical expenses, daily care and dramatic changes in diet. Often a caregiver is forced to give up her own career to stay home with the patient – further cause for frustration. While the government does have a system in place to offer some monetary support, many people are unaware of it. Pensions can be continued for the upkeep of a disabled child, reveals Rohantha Samarajewa, Administrative Officer at the Sahanaya Medical Clinic. But for those who have figured out a way to have their child inherit their pension, it is only one more problem – who can be trusted to handle this money so that their child is properly taken care of?
Even when money is not an issue, the quality of care is. When her youngest child suffered brain damage after a poorly executed forceps delivery, Mrs. Perera (name changed) realised that she would have to give everything up to stay with the baby, who was also prone to fits. However, she freely admits to worrying about what would happen to Ranjith* after her time. "All my children had their own work, and didn't know if they would be able to find the time to really be with him. He was worried about this too," she says. So when Ranjith died peacefully in his sleep, aged 46, grief was tinged with relief.
Fulfilling experience
Looking back on the time she spent with her son, Mrs. Perera recalls that he was a gifted artist who enjoyed sketching the birds, water lizards and other little animals that appeared in and around their house in Maharagama. For her and others like her, care giving, despite its moments of frustration, is a deeply satisfying and fulfilling experience. Though the daily strain of watching over someone can be high, there is still a great pleasure to be found in such relationships, she says.
"Are there things that you can enjoy doing together?" asks Dr. Soysa. "You don't have to talk." You could read out loud to a parent who cannot read anymore or cook a favourite meal for a spouse. "Find an hour, which is a non-fighting time, in which you can reconnect and be in peace," she suggests. "Find the little things that you can do, especially when things are getting harder. Only the family of someone chronically ill knows how hard it can be. It's unrelenting and nobody can do it all the time. It's not that you're a bad parent. It's not that you're an ungrateful child."
But as a caregiver, one of your most essential accomplishments will be learning to take care of yourself.